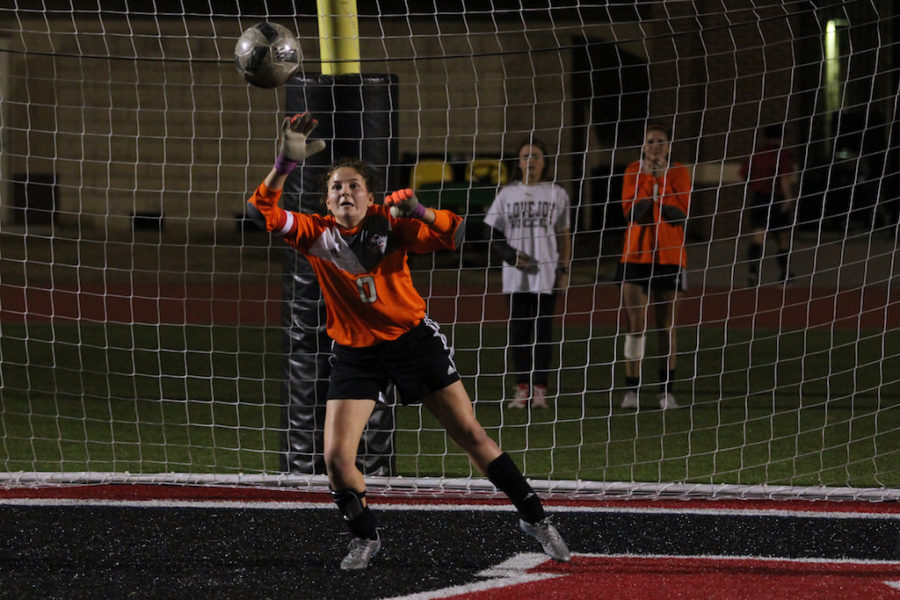 Girls soccer travels to Mesquite Poteet
A new defensive strategy will be in place on Friday, Feb. 10, as the girls soccer team will attempt to slow down Mesquite Poteet, ranked 16th in the state according to Maxpreps, in an away game starting at 7:15 p.m.
"I think our new formation will help minimize goalscoring," Todd said. "Carolyn [Murad] has been playing stellar as goalie as well as that we have a new formation with our center backs that has proven very fruitful."
Defense isn't the only focus point the girls will be emphasizing.
"We play better against better teams with a high skill level," senior Natalie Frauenheim said. "We may change to have more of an offensive standpoint so that we can support our forwards."
With Poteet's win streak back to one after a tie against Highland Park, sophomore Isabelle Valenzuela said the girls can attack their vulnerability.
"I think they're coming at us thinking that since we've lost two games that this may be an easier game," Valenzuela said. "But we're definitely looking for a win, so I think one of the things that'll give us the extra edge is attacking them with what we have and really push for those goals."
Even though the game is away, the girls are confident in how they will perform.
"Being away usually isn't a problem," Valenzuela said. "There haven't been many rowdy crowds so it helps us focus more on the game."
The girls have also learned what needs improvement from their losses.
"Team chemistry is where it starts," Frauenheim said. "We also need to find a format that works well for us. Once we figure this out, hopefully from there it will be smooth sailing."
Senior team captain Jensyn Caton has showed her leadership capabilities during the girls' dry spell, Frauenheim said.
"She kind of keeps us all together," Frauenheim said. "Sometimes we've gotten more irritated than we have in the past, and so she's good at keeping us in line and help us focus on what we need to do."
Caton isn't the only girl who is in the spotlight.
"Reagan Matacale is tiny, but mighty in a way that I have never seen in my life before," Valenzuela said. "She seriously chases after every single ball and is so aggressive. A lot of girls will take advantage of her size because she's so small and will try to put extra muscle on her, and she takes it like a champ."
On Tuesday, the girls fell 4-0 to North Forney. Todd said attitude is the key to helping end the team's struggles.
"Obviously after any loss or when you couple more than one loss together there is always potential for the morale to be low and the frustration to be really high," Todd said. "I think what we need to do is continue to work together so that we can cultivate a positive environment that fosters goalscoring and continues to have everyone enjoy the game they like."