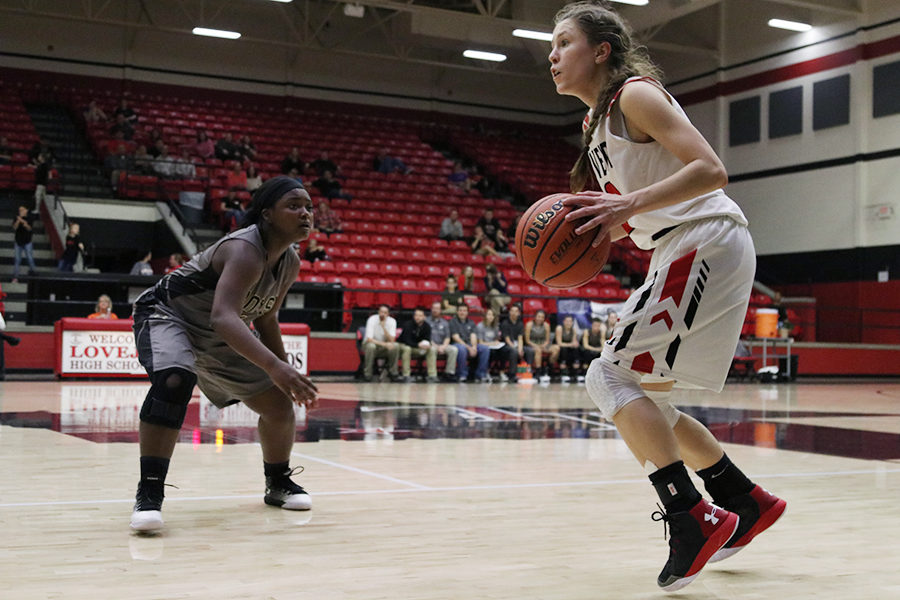 Girls basketball set to face Mt. Pleasant in bi-districts
The girls basketball team (24-8) will travel to Rains High School in Emory to take on Mount Pleasant (11-8 according to Max Preps) in the bi-district round of the UIL 5A state championship on Monday night at 7 p.m.
Mount Pleasant finished the regular season with a 5-2 district record which allowed them to clinch second place in their district.
"We are working on breaking the press in order to be prepare for unexpected trapping," junior guard Taylor Meixelsperger said. "We are also working on lots of free throws so we can shoot at a high percentage in the game."
The team is focused on playing their game of basketball which means taking it one possession at a time.
"Our mindset entering this game is to focus on how we play and to not let the opponent speed us up," Meixelsperger said.
The team closed the regular season on Tuesday night with a home victory over Royse City 54-37 on senior night.
The team finished the regular season with a 9-5 record in district play, earning a third place finish and a spot in the playoffs. The team finished behind Wylie East and Highland Park who both lost only one district game.
"We played hard and had a good season," junior guard Kim Lyne said. "We improved a lot from last year. We are the same team from last year but we have improved our skills."
If the team wins against Mount Pleasant, it will advance to the area round to play the winner of Frisco Lone Star and McKinney North.