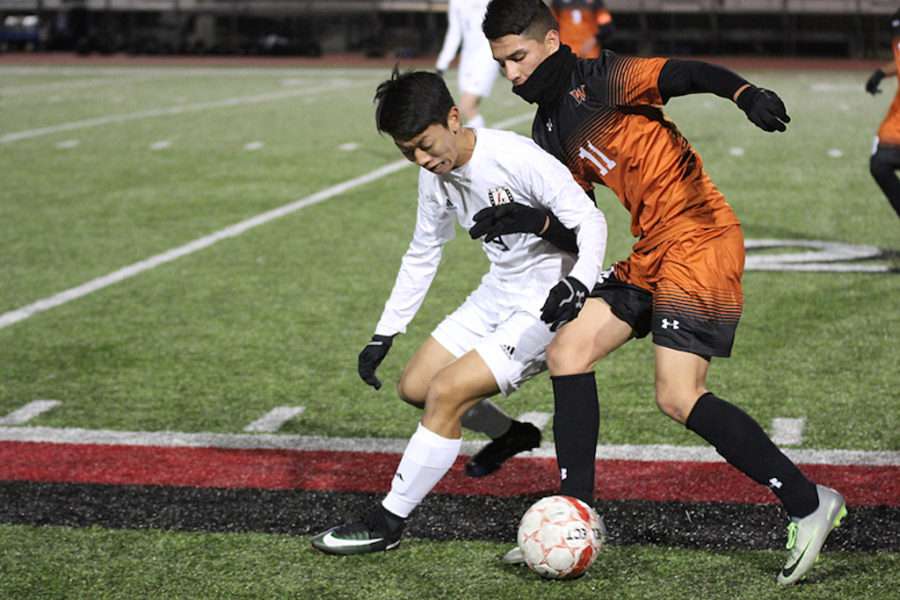 Boys soccer look to protect top district seed
The boys soccer team (6-3, 5-0) hosts Mesquite Poteet (6-3, 3-2) at Willow Springs this Friday at 7:15 p.m., after continuing their winning streak by defeating North Forney (3-7, 1-4) 10-2 last Tuesday. With the streak now up to five games, the Leopards find themselves sitting at the top of their district, preparing for Friday night.
"Now that the word is out, our opponents know they are in for a difficult game," head coach Alex Duran said. "It is true we are in first place and we are developing the attitude of meeting the next challenge head on and not be afraid of it. We want everyone in the district week in and week out to look at the standing and see Lovejoy at the top of the table."
Mesquite Poteet is currently sitting in fourth right now in district 15-5A, on the bubble for playoff spot, making it an important matchup for the Pirates.
As for the Leopards, there are no signs of slowing down. A win against Mesquite Poteet would have the Leopards at 6-0 in district play and would start to create separation from second and third place.
"Our boys know this is where we belong, and above all else they are willing to do whatever it takes to stay there," Duran said.
Last game, the Leopards easily handled the North Forney Falcons. There were goals everywhere between multiple players, but the standout was freshman Michael Branch. Branch had a hat trick (three goals) plus another giving him four. The freshman did not accept sole credit for his performance.
"All of the goals [I had] happened because of great plays from all of my teammates, so it wasn't just a single effort," Branch said. "Also, we all had to stay focused and know that the game wasn't over no matter what the score was."