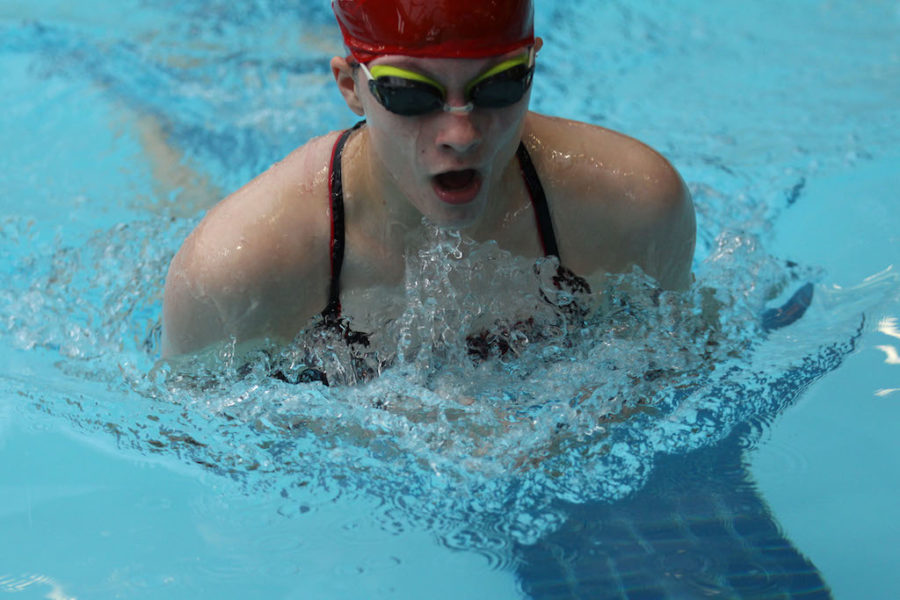 Swimming teams look to capitalize on district success at regionals
The boys and girls swim teams will travel to the Frisco ISD Aquatics Center for the region III-5A regional meet this weekend. Coming on the heels of Coach Matt Franks becoming two-time girls district coach of the year, the teams will look to build off their district results, where the girls team were district champions for the third consecutive season and the boys were runner-ups.
The meet will kick off Thursday, and extend until Saturday for the swimming finals.
"Warm-ups for swimming preliminaries will begin at 10 a.m. Friday," senior Sarah Wallaert said. "From there, our actual meet will begin at 12:00."
A large pool of finishers from preliminaries will qualify for the next day, but a more selective group will move on to state.
"The top 16 finishers from each individual event will qualify for the finals on Saturday," senior Luke Scroggins said. "On Saturday, the top two for each individual event will automatically qualify for state. The next eight fastest throughout the state will be called up."
Junior Sloan Carevic said she believes several events will bode well for the boys and girls.
"Any of the relays for the girls could turn out successful," Carevic said. "The 100 meter backstroke, 100 meter fly, 200 meter freestyle, and 100 meter breaststroke have a lot of fast girls competing. For the boys, they should be competitive in their 200 meter and 400 meter freestyle relays as well as their 100 meter fly."
Carevic said she the team will make strides from their finish last year.
"Last year, we were one of the best teams in our pool," Carevic said, "Unfortunately we fell short at the finals on Saturday. We've gained a lot of experience and wisdom from that point on, and I believe our results will be completely different this year."
Senior Sarah Wallaert said coach Matt Franks deserves much credit for his second girls Coach of the Year award, but attributes much of the success to the girls team itself.
"Coach Franks' success is our success," Wallaert said. "Typically the coach of the winning team in district is announced the coach of the year. Winning is about your total of first, second, and third place finishes your team racks up. Our girls team was able to accumulate enough points to where Coach Franks is gaining recognition for his work."
Wallaert has made positive strides in her swimming abilities, which she attributes in part to Coach Franks.
"I put in a lot of work last year but didn't have a lot of faith in myself," Wallaert said. "I've improved greatly on my speed, and that is in large part because of Coach Franks' workouts and advice. I've focused particularly on my form and endurance and I hope those improvements translate to the regional meet."