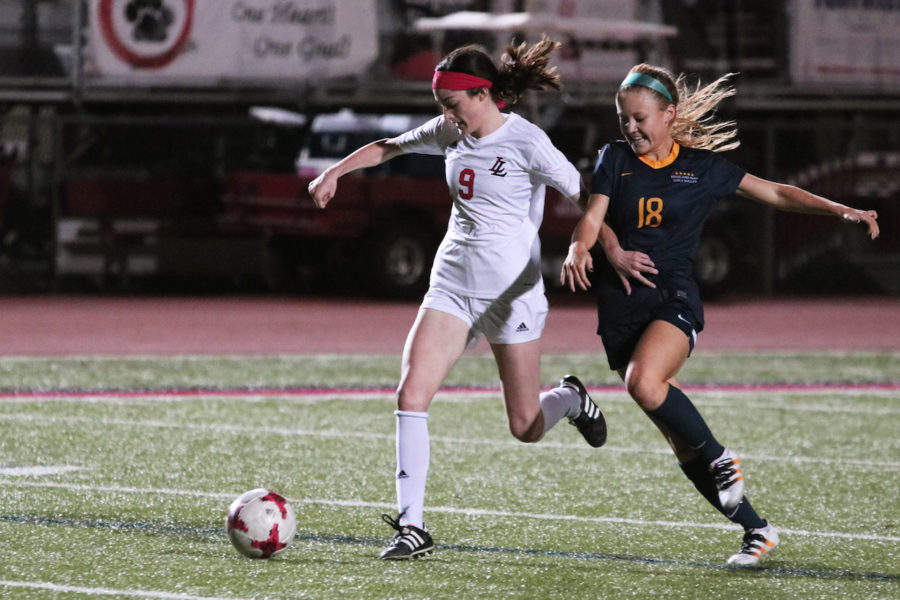 Girls soccer to face winless West Mesquite
The girls soccer team is seeking to regain their footing following a 3-0 loss to the talented Highland Park Scots, who came in at fourth in the state and 73rd nationally. The team is looking ahead to their most immediate competition, West Mesquite, who is winless on the season.
"Highland Park is well known for their extremely competitive athletic department," senior Madison Ray said. "Most of their players are club players. The girls had a lot more skill than us, but we competed with much more heart and passion. Although we lost, I think it's the greatest game the varsity team has played this season."
Senior Abby Bryant said she believes some positive momentum will help against a struggling West Mesquite team coming off of a 5-0 loss to Frisco Heritage.
"I think we're actually starting to gain the momentum we've been searching for," Bryant said. "My hope is that regardless of what team we are playing, we focus on playing the way we did in the Highland Park game. Whether it's West Mesquite or the next time we face Highland Park, our game plan as a team should focus around communication and adjusting to the needs of each game."
Senior Raegan Scheckel feels confident with what could be their next toughest challenge, Wylie East.
"They've consistently been a very developed team with deep chemistry," Scheckel said. "However, moving forward and seeing the skill our team possesses, I truly think we are capable of defeating any team in our district. Our biggest competition will come down to Highland Park and Wylie East. I foresee a successful season for us."
Ray has taken notice of some teammates who have provided a spark for the team.
"Lizzie Weichel has been one of the most outstanding players on the team this year," Ray said. "She's a sophomore captain and plays each game with an immense amount of passion. Another outstanding player is Reagan Matacle. She's a freshman who who has definitely earned her starting spot in the mid field. She plays with all she has, and we're very grateful to have her."
Scheckel hopes the team can move past their struggles as a team to find some success.
"As a team, I feel as if our struggles don't come from just one certain position," Scheckel said. "If a position on the field is struggling, then we all are struggling. Soccer is a team sport that only works when the entire field is cooperating. As long as each position gives maximum effort, then we can't complain."