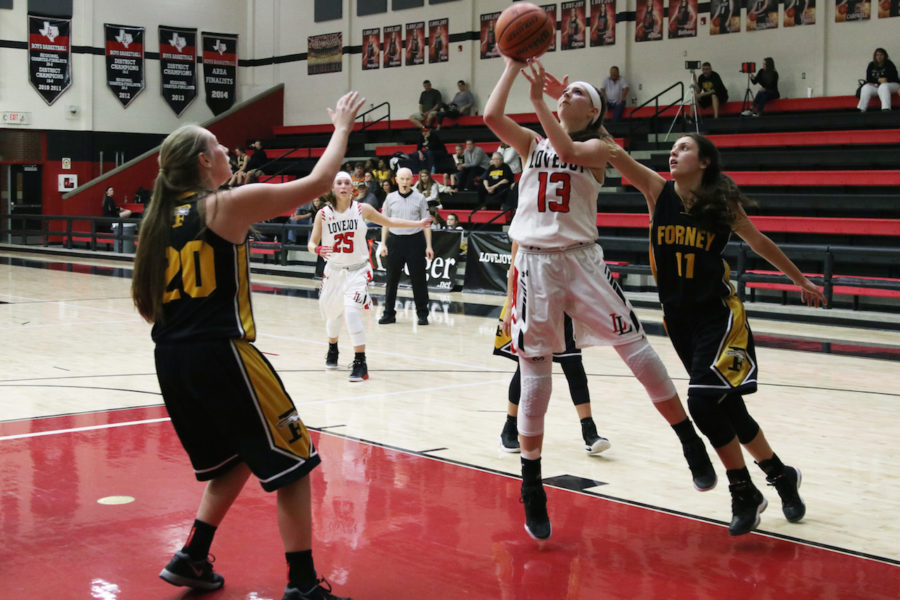 Carter Brant and Gabby Ornelas
Girls basketball to play second place Wylie East
In hopes of winning its third district game in a row, the girl's basketball team (22-6, 7-3) looks to defeat the Wylie East Raiders (19-6, 9-1) on the road tonight at 7 p.m.
The Raiders have played extremely well this year and have only had one loss, a 4-point defeat against Highland Park. The Raiders have averaged over 65 points in their last three games and they will look to keep it up tonight.
The Lady Leopards hosted the Raiders earlier in the season and lost in a close game, 41-36.
"We struggled against Wylie East remembering who we were guarding and knowing the other team's strengths and weaknesses," junior Taylor Meixelsperger said. "This time around we are focused on being locked in on defense and knowing the little things."
Head Coach Lance Boxell has his team focused on keeping the Raiders from scoring in the paint on the offensive end of the floor.
"Wylie East is a very athletic team and they do a great job of attacking the basket," Boxell said.
On Tuesday night the team hosted Forney and won with juniors Kim Lyne, Taylor Meixelsperger, and Kaylee Rekieta all contributing in double-digit scoring totals.
"We had one of our best games of the year against Forney," Boxell said. "Our pressure defense forced them into 20 turnovers and we also found our stroke from the outside, connecting on seven three pointers."
With the second half of district just underway the team will look to continue to put themselves into place for a district playoff run.
"In the first half of district we went 5-2," Boxell said. "In the second half our goal is to make the necessary adjustments and finish strong."
Compared to this point in the season last year, the Lady Leopards had only 11 wins on the season compared to this year's 22 wins.
"Our improvement this season has a lot to do with each one of our girls spending time in the offseason working towards becoming a better player," Boxell said. "I am very proud of the improvement I have seen from last year to this year."
After Friday's game, the team takes on North Forney at home on Tuesday at 7 p.m.