Failing retirement
4 years after leaving the workforce, Janet Tillman takes a job in the library with a desire to 'make an impact'
Janet Tillman rejoined the workforce as the Sloan Creek Intermediate library tech assistant in 2012 after "flunking out of retirement," a decision that would eventually lead to her employment at the high school in 2016.
"This position came up and everybody said 'we needed to call you,'" Tillman said. "There was a little bit of destiny there. That door opened and I decided to go back into the workforce."
Prior to her job with the district, Tillman had been retired for four years. However, she later found that her time would be better spent working within the school.
"I 'flunked out' of retirement because I needed to feel like I was contributing something important," Tillman said. "You can play bridge and you can go fishing and you can read books, but I felt like I wasn't making an impact anywhere. I wanted to make an impact."
Library Media Specialist Emma Mcdonald appreciates the opportunity to work alongside Tillman, and said she is happy that the former teacher rejoined the workforce.
"Mrs. Tillman is fond of saying that she 'failed' retirement. I'm so glad that she did," McDonald said. "Her lifetime experience as a teacher and technology director is an incredible asset. I believe that we can learn so much from the life experiences of others and I welcome her input and insight."
With a history in teaching and computer architecture, Tillman had many skills to aid her as the SCIS library tech assistant
"I went back to school when computers came into the classroom," Tillman said. "My district paid for us to go to a technical school and learn computer architecture and repair. From there I took more college classes, and I earned an educational technology facilitator certification, where I train teachers how to use technology in the classroom."
While having a great amount of technical skill, McDonald said Tillman's personality also aids in her success at the high school.
"I admire Mrs. Tillman's way of expressing herself," McDonald said. "She is able to put a lot of meaning into her requests, and she does it in a way that isn't harsh or judgmental. I love that she is able to maintain our warm and welcoming environment for the library and at the same time encourage students to make good choices while here.
Colleagues aren't the only ones who have taken note of Tillman's work ethic. Junior Brandon Su witnessed it first hand during his time as a volunteer at the library.
"She always comes to the high school with an upbeat attitude, ready to take on whatever challenges the day might throw at her," Su said. "She sacrifices her time and effort for the students of Lovejoy and I think that is truly amazing."
About the Photographer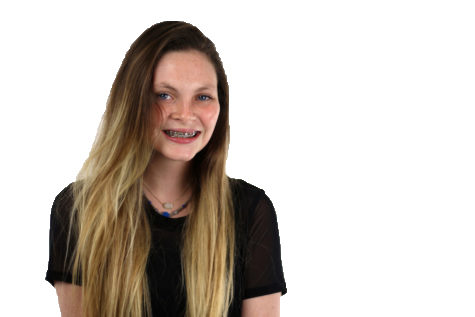 Zoe Allison, TRL photographer
Sophomore Zoe Allison loves the simple things in life, such as iced coffee, music, and laughing with her friends. In seventh grade, she didn't intend...