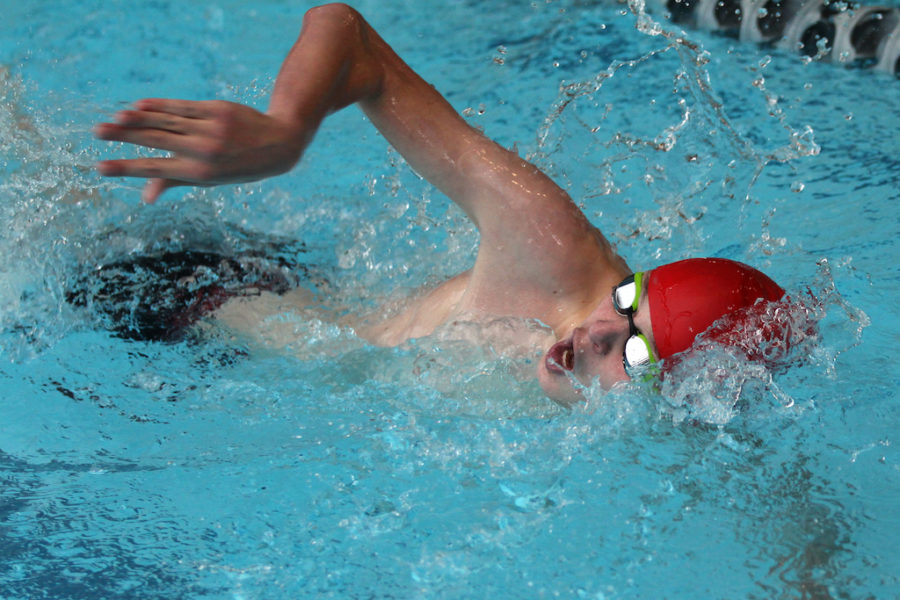 Swimming set to compete in district championship
The 2017 swimming season pits the Leopards against a myriad of new competition in District 12, swimming against Highland Park, Royse City, Celina, Paris, Paris North Lamar, Gunter, and Pottsboro. The team will have an opportunity to challenge these teams on Friday at the district championship in The Colony.
"This meet is limited to only district 12-5A," junior swimmer Grant Stout said. "The top six finalists in each event of every district meet in Region 3-5A will move on to the regional meet. Those who place in the top two in regionals will move on to state."
The confinements of the tournament will result in multiple heats to give the swimmers extra chances for a winning time.
"For this tournament we will only have one pool to swim in," Stout said. "Event one will begin at 4, and from there on the meet will take about two hours to conclude. Since the number of swimmers will outnumber the lanes, there will be multiple heats of the event, and a heat sheet will be available with the assigned lanes and schedule of the swimming."
A 100 meter backstroke and freestyle swimmer, senior Sarah Wallaert said she aims to correct faults from the last meet in order to compete with a district foe.
"I thought that we came up quite short of expectations in our Lewisville meet," Wallaert said. "It was a bit of a last minute meet, so I thought that we weren't mentally prepared for it. We'll need to be prepared for Highland Park in particular who has a strong boys team and a lot of talented individuals overall."
The team has been limiting activity to enter the meet with fresh arms and legs.
"To prepare for district we've just been tapering," Wallaert said. "Essentially we have been reducing the amount of exercise we do leading up to the competition. It's common to find in a lot of endurance sports. Ultimately, I think we will place well in girls' events, especially in our relays. The most difficult event to find success in will be the 100 meter fly and 200 meter."
The competition in district as a whole will not provide much of a challenge according to junior Sloan Carevic, but the team has been preparing for a competitive region.
"There isn't a lot of competition in our district," Carevic said. "Our region is arguably one of the top two most difficult regions in the state. Our strongest competition will be the Frisco schools because of their experience. Our relays are particularly strong but any event can work out well. It isn't about skill at this point; everybody on the team has put in countless hours and it comes down to how we perform under pressure at an important meet."