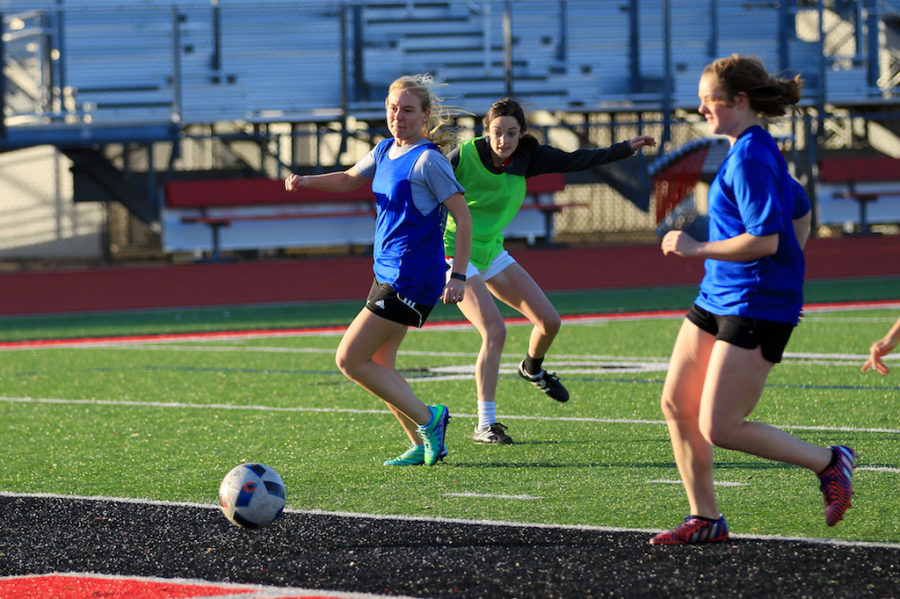 Girls soccer prepares for district opponents
With district starting next week, the girls soccer team will face Highland Park at home next Tuesday, Jan. 24 at 7:15 pm.
Last weekend, the girls soccer team prepared for future opponents by entering the Hebron Tournament.
"Our coach put us against harder schools to test out how we would do," senior Carolyn Murad said. "We learned that these schools were scoring off of our mistakes."
The girls faced three 6A teams out of their four tournament games. By facing the tougher competition, they learned where they needed improvement.
"We started to work out the kinks that we have and started figuring out or chemistry and stuff," senior Abby Bryant said.
Bryant broke her wrist during last weekend's tournament, one of several injury issues for the team.
"I have an inflamed bone," senior Madison Ray said. "Despite there being multiple injuries, we still played our heart out."
Injuries weren't the only adversity the team faced. Cold, wet weather also presented a challenge.
"We had game that was below freezing, and another in the pouring rain," Murad said. "So now I feel like we are able to play an any conditions."
Although the team did not get a win last weekend, Bryant said the experience helped prepare them for Highland Park.
"We expect them to play similar to Hebron, who we played Saturday," Bryant said. "Just a really skilled team that can capitalize on our mistakes."
Despite that, Ray said the team is looking forward to starting district play against the Scots.
"We're out to beat them," Ray said. "And also, out there ready to work Tuesday."