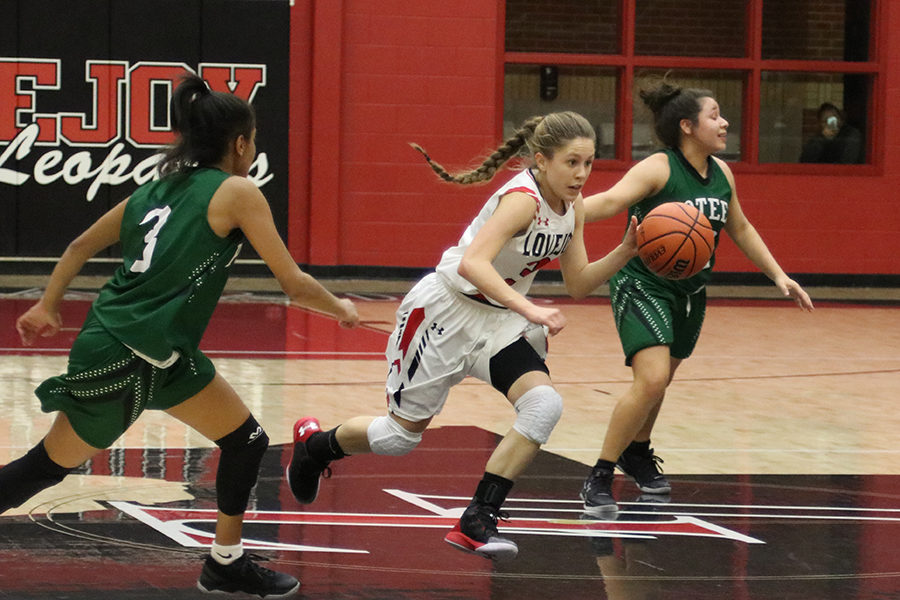 Girls basketball look to bounce back from loss
The girls basketball team will take on the West Mesquite Wranglers on Friday, Jan. 20, as the team looks to rebound from a 6-point loss to Highland Park on Tuesday.
The team hosted the Wranglers earlier in the season and beat them easily, 67-36.
Mesquite currently ranks last in the District 15-5A standings with only one divisional win on the season, a total of 16 losses, and a four-game losing streak. The team will look to take advantage of a struggling Mesquite defense who has allowed 50 or more points in each of its last four games.
Head Coach Lance Boxell says his team is working on shooting the ball in practice.
"In our game vs Highland Park we shot 29 percent from the field," Boxell said. "We need to shoot better to win against good teams."
Junior guard Taylor Meixelsperger said the team has been focusing on shooting the three in practice.
"When we played Mesquite last time we hit a lot of threes which helped us win the game," Meixelsperger said. "We concentrated this week in practicing threes out of different offensive sets."
The team has been focusing on some of the little things since it has been a factor in some of the team's close games this year.
We are working on things like hustling and executing on the offensive end of the floor," Meixelsperger said.
With only six district games left, the team is focusing on taking each game one at a time. The team currently sits in third place in the district rankings.
"Our goal is to capture one of the four playoff spots and to play our best basketball to give us a chance to compete in the state playoffs," Boxell said.
Next up for the team will be a home game against Forney at 7 p.m.