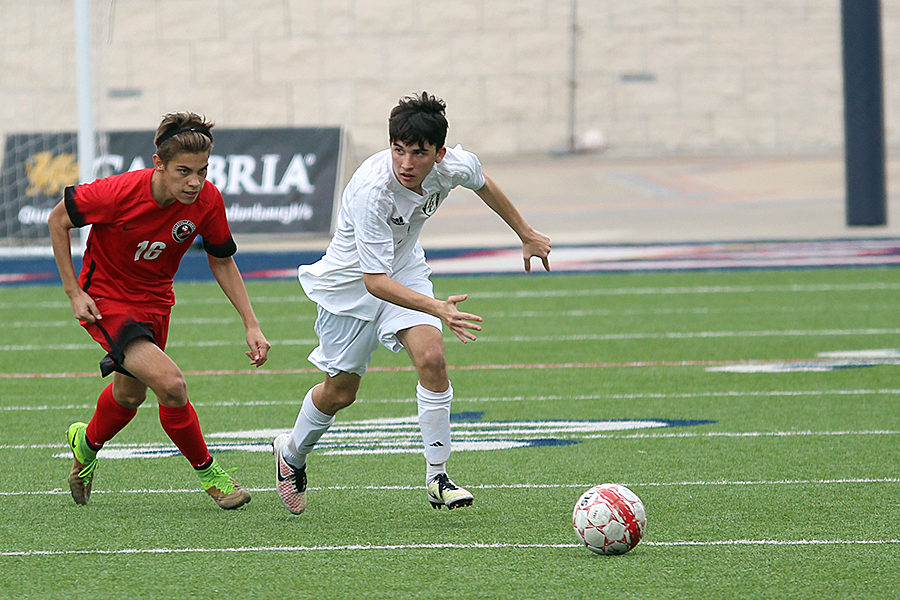 Boys soccer hopes to have success in Ice Bowl
The boys soccer team looks to get its first win of the season in the Ice Bowl tournament this weekend after tying twice and losing twice in the Allen tournament.
"Going into the tournament we have been really focused on improving our defensive shape as a team as well as finishing scoring opportunities that we are given and overall our team chemistry," junior Bretton Laboret said. "As far as our game against Allen, as a team we did very well about creating goal scoring opportunities and we were pleased with our performance against a 6A team."
On schedule for the Ice Bowl at Richardson Berkner, the team faced Lake Highlands on Thursday, losing 3-0, will meet Woodrow Wilson on Friday, then followed by a morning game against Frisco Reedy on Saturday. If the Leopards place first in their tournament division, they will play later Saturday for a chance to win the tournament.
"We want to win [the tournament] for sure," junior Enrique Vega said. "Obviously it's about the bigger picture which is getting ready for district and working the small things, but we definitely can win it and that is what we are looking to do."
In the tournament last weekend, the boys played a total of four games. In the first, they tied Colleyville Heritage with a score of 1-1 with the goal being scored by sophomore Benji Merrick. Next, the Leopards faced the home team Allen and tied them in a high scoring game, 3-3. On Saturday, the boys had a double header playing Tascosa and then Adamson, losing each by one goal.
Their first district game will be away against Highland Park next Tuesday with a home game against West Mesquite following on Friday. That will be the start of the Leopards playoff hopes for 2017, as they will be playing a total of 14 district games, playing each team two times.
"I am looking to see more consistent movement as a unit. I want to see more creativity in attack," head coach Alex Duran said. "Finally we had many chances to score goals during the Allen tournament we didn't put away. So I am definitely looking for more composure from our players in front of goal."