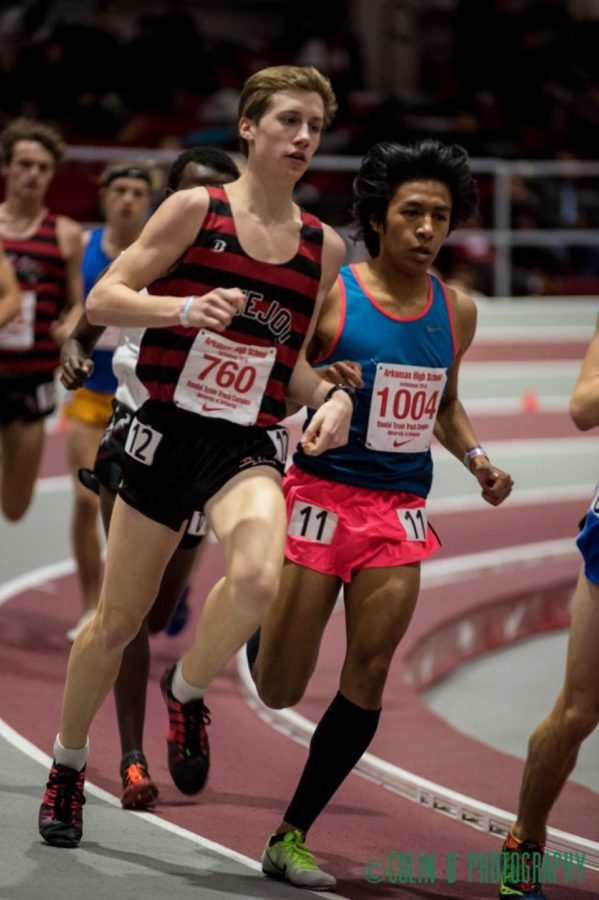 Courtesy of LovejoyXCTF's Twitter
Track travels to Arkansas
With the spring season coming up, the track team is preparing by taking the five-hour drive to Fayetteville, Ark. to compete in the Arkansas High School Invitational at the University of Arkansas' Randal Tyson Center.
"It's fun to race out of state," senior Noelle Franz said. "And race against teams across the country because it's more competition."
Before they race however, they will watch the renowned Razorback track program compete in its own meet against colleges like the University of Texas and Texas A&M.
"It's really fun to watch," sophomore Jake Chamberlin said. "You pick up things, like the pace they set for their races. Last year was my first time running indoors so I didn't know how to run it, but watching them run helped me."
Spending the whole weekend together, it gives the team a chance to bond with each other.
"We stay in hotel rooms with our teammates so we get to know them that way," sophomore Carson Hockersmith said. "We'll go out to dinner the night before as well."
Some returning athletes have memories they look forward to revisit.
"I like how after the meet we go and get custard at Andy's," Franz said. "There we talk about the race and just get to relax after a long day."
With them rooming together in Fayetteville, it creates opportunities for some of the athletes to create relationships they may not have had before.
"One night I roomed with Ian Inbrock and Luke Parker," Chamberlin said. "I didn't know them that well before, but the trip helped that."
Leaving early Friday, the team will compete that following Saturday.
"It's a trip that I look forward to a whole lot," Hockersmith said. "It's fun to race on a new track and be with my teammates."