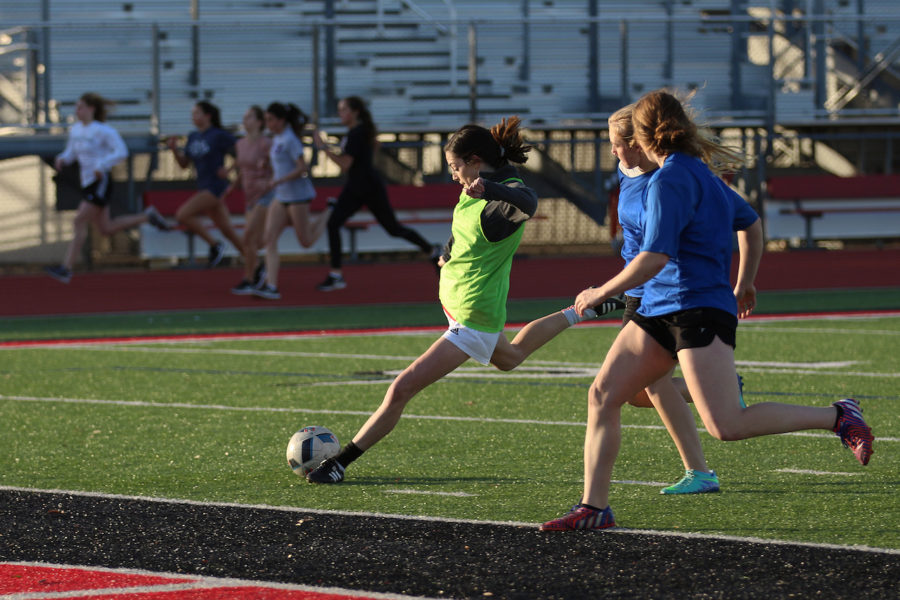 Girls soccer hopes to rebound at Hebron tournament
The girls soccer team will look to turn things around with their tournament at Hebron this weekend after falling 1-2 against Lakeview as well as 0-4 to Frisco Liberty to start out the season. Starting on Thursday and ending on Saturday, the girls will face Frisco, Rowlett, and tournament host Hebron.
"Although we've lost our first two games of the year, we realized we were lacking team chemistry," senior Natalie Frauenheim said. "We have played in practice really well, but when we played a team other than ourselves, we found the connection between the back line and mid fielders was lacking and the same with the forwards and midfielders. We haven't necessarily played bad, we just have to find our rhythm for the year."
Senior Abby Bryant said she is conscious of what skill their roster possesses, but agreed on chemistry struggles.
"We have some very talented players on our team this year," Bryant said. "Personally, I think we have a lot of girls that are playing well individually but our chemistry as a team has been a little off. I feel very encouraged and confident that as the season starts we will work out these minor problems."
Unlike other sports who use film to their advantage, soccer has little to reference in preparation for games.
"Unlike football and basketball, soccer doesn't do film, so every game is a surprise." Frauenheim said. "It's especially surprising since teams change so much from year to year. This week we're playing in the Hebron tournament, and knowing that Hebron High School has won state in the past, we are expecting some good teams and are preparing accordingly."
The tournament will not have a conventional structure, as elimination does not play a factor.
"This tournament is more of a round robin style," senior Lizzie Wiechel said. "It's an all-play-all setup where each team meets all other teams involved, as opposed to an elimination tournament. It should be more fair that way since there is no element of luck like in a knockout system. We all have an equal chance against each other."
With soccer being an outdoor sport, the team has had to adjust to undesirable weather circumstances in their past two games.
"Weather can definitely be a big factor in our games," Bryant said. "In fact, in our game against Lakeview Centennial many of the girls on the team, myself included, felt that the cold was so brutal it affected our ability to truly process the game and make smart decisions on the field."
Bryant said she hopes the pre-district tournaments and opponents will prepare the team for their new district opponents.
"We are facing some very challenging team in this upcoming tournament," Bryant said. "I think this weekend will allow us to build our chemistry and hopefully better our overall play for the season. Coach Baker has intentionally set up games before district against very skilled teams to challenge us and see what outcomes we can produce when under such pressure."