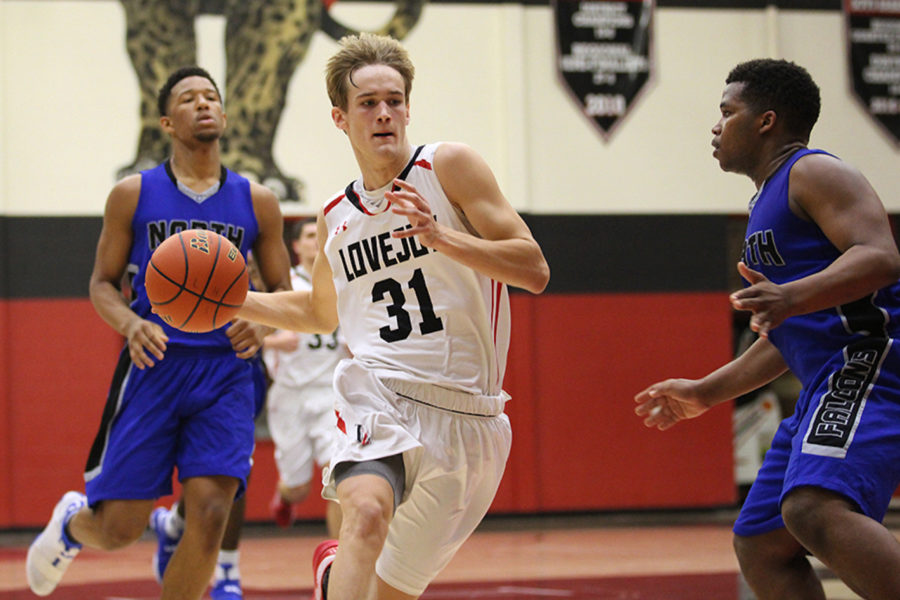 Boys basketball looks for momentum against Royce City
Looking to build upon the 3-1 start to district, the boys basketball team will host Royse City, 0-4 in district play, on Friday, Jan. 13 at 7 p.m.
Winter Break comes as a desired hiatus for most students but for the basketball team district play began and focus was warranted.
"We've played a Christmas tournament in the past which can be good because you see a variety of looks and get back in game condition quickly," head coach Kyle Herrema said. "This year we decided to practice more over the break and have one match game. We also had a lot more time to prepare for Wylie East and our second district game."
The team went 2-1 over the break including their first district win over Forney.
"We've fared well in the early part of our season, especially in district," senior Braden Ledebur said. "I think a lot of that can be attributed to great preparation for each game. I think a good game plan allows us to play confidently and to our strengths. It sets us up for success."
The basketball program had the opportunity to host a team from Australia over the break. The Australians were housed by Lovejoy basketball families and even went up against the JV team.
"I always think it is a great opportunity for our players to see how people live differently than in Lovejoy. I think the players like to hear how basketball is different in Australia as well," Herrema said. "I've gotten nothing but great feedback from our host families about their experiences."
Coming back from Winter Break the team traveled to Wylie East on Jan. 3 and defeated the Raiders 56-44. Kyle Olsen led the team in points with 17.
"We started out kind of slow but in the fourth quarter we played really well, especially on defense," sophomore Kyle Olsen said. "It was good to get a win on the road against a solid team."
On Jan. 7 the team fell in a close battle to North Forney 44-43. They outscored the Falcons 16-4 in the third quarter, but in the end the team didn't make enough plays in the final quarter to come out on top.
"[It] was a tough break, we played well and competed hard but lost it at the end of the game," Ledebur said. "Though it was a disappointing loss it's important for us not to dwell on that game but rather get ready for the season ahead of us. We'll get them next time."
With a focus on defense the team handled Mesquite Poteet 34-28 on Tuesday. They held Poteet to zero points in the first quarter and held their main scorers in check.
"We played really great defensively, holding their best player to only eight points," Olsen said. "We also executed well at the end of the game to win."