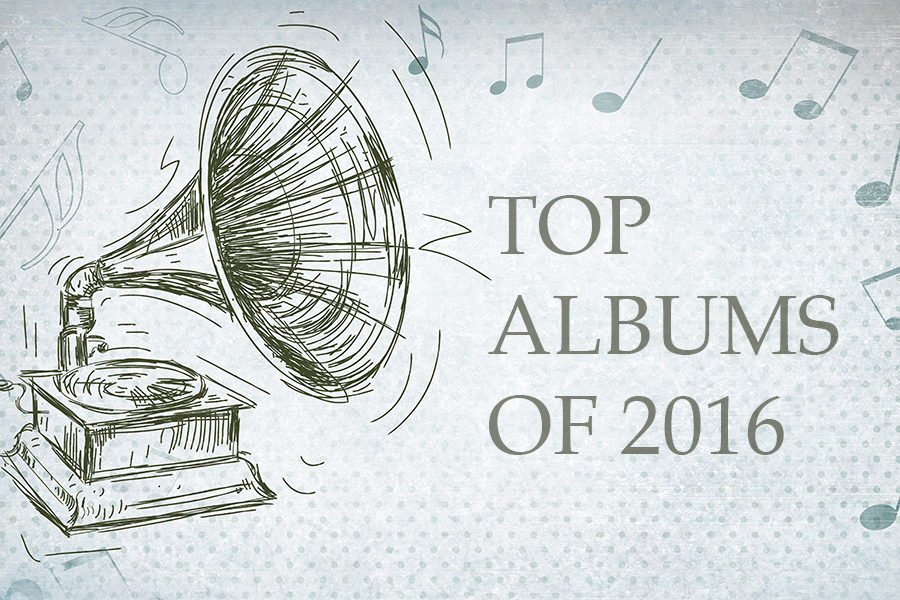 Top ten tunes of 2016
Staff reporters give input on the best albums released in 2016
January 9, 2017
Joe Cross
"Wildflower" – The Avalanches
After nearly 16 years of silence, Australian group The Avalanches returned in 2016 with the long-awaited follow-up to their 2000 cult classic, "Since I Left You." Like that album, "Wildflower" creatively flips obscure samples and repurposes them to create a colorful collage of sound, but adds a new twist with the appearance of guest vocalists like Toro y Moi and rapper Danny Brown, adding their distinctive styles. The resulting effect is an hour of pure, unadulterated joy. "Wildflower" is the rare comeback album that's an absolute triumph.
"Teens of Denial" – Car Seat Headrest
Going from recording vocals in the back of a car and making albums all by himself to having a full-fledged band and a six-figure budget, prolific musician Will Toledo of Car Seat Headrest has become something of an unlikely indie hero, and his latest project, "Teens of Denial", shows that he can only get better from here. The record plays like a greatest hits album, with each song being as memorable and addictive as the last. Toledo's lyrics are excellent as well, being simultaneously poignant, funny, and relatable, and they're complemented perfectly by the music's smartly written bursts of power pop with melodic guitar licks and the occasional keyboard. It doesn't rely on any flashy production tricks to get by, but instead coasts all the way through on purely fantastic songwriting.
"Blackstar" – David Bowie
The Starman's swan song showed that Bowie was innovating and trying new ideas until the very end. Compared to 2013's decent-but-unremarkable "The Next Day," which, though it had a few good songs, didn't really explore any new territory, "Blackstar's" experimentalism stands out almost immediately, especially in its opening track, the nearly 10-minute-long abstract jazz title track. It displays an energy unheard from most of 2016's hyped albums and breakout artists, but in the context of Bowie's death, can also be an emotionally-draining experience. Nevertheless, Blackstar is an incredibly rewarding experience that ranks up there with the best of Bowie's work.
"22, A Million" – Bon Iver
On "22, A Million," Justin Vernon of Bon Iver invents new words and instruments, fills his cryptic lyrics with references to the Bible and William Shakespeare to communicate themes of loneliness, and uses sped-up samples of long forgotten music to create an unflinchingly experimental album that also manages to be his most personal, intimate work to date. While tracks like opener "22 (Over Soon)" are more abstract, sparse compositions, others such as "8 (circle)" are as warm and inviting as anything else he's done. It's an album that takes a few listens to sink in, but once it does, it becomes one of the year's most gripping listens.
"WORRY." – Jeff Rosenstock
"WORRY.'s" title leads listeners to believe they'll be hearing a sad, anxious album, and while that is true, it's also the most upbeat album of the year. The first half consists of one addictively catchy pop-punk song after another, while the second delivers a medley of shorter tracks reminiscent of "Abbey Road." At a brief 38 minutes, the album flies by, and proves that pop-punk can still be a genre worth exploring in 2016.
Leave a Comment
Noah Van Hooser
"Bottomless Pit" – Death Grips
On '"Bottomless Pit", the industrial hip-hop trio Death Grips extends what is already a phenomenal discography. Following the experimental instrumental album "Fashion Week" and double LP "The Powers That B" of 2015, the group pulls together their most accessible ear candy to date. In fact, the group has identified the record as a "very shallow listening" experience. Shallow or not, the group refuses to compromise their abrasive nature for the 13 tracks presented here. The elements of experimental hip-hop and noise rock coupled with unsettling lyrics make for an intriguing 39 minutes, for newcomers and enthusiasts alike.
"Atrocity Exhibition" – Danny Brown
There isn't quite another character in hip-hop like Danny Brown, and there isn't quite another album like "Atrocity Exhibition." From the looping percussion and glockenspiels of the track "Really Doe," to the eerie sampling of "Lost," Danny employs his nasal delivery on instrumentals that other artists wouldn't touch. The title of the opening track, "Downward Spiral," perfectly embodies the theme of the album, as Brown explores the grim topics of addiction and mental illness. Despite these moments of distressing lyricism, Brown has an obvious knack for applying sarcasm and black comedy to somewhat liven the mood. One of the more intriguing songs in the track listing, "Dance In The Water," features a musical sample nearly impossible to pin down, complemented by a post-punk feeling baseline and tribal percussion. "XXX" was a raw and emotional LP that put Brown on the map, "Old" was an LP riddled with commercial appeal, and "Atrocity Exhibition" is Brown's way of splurging while sticking to his roots, with the versatile use of instrumentation and $70,000 worth in samples. Ultimately, it is Brown's magnum opus, and simply one of the best experimental/hardcore hip-hop albums of the decade.
"Nonagon Infinity" – King Gizzard and the Lizard Wizard
Garage rock/psych rock artists like Thee Oh Sees and Ty Segall are typically known to be prolific with their releases. The hilariously-named Australian group King Gizzard and the Lizard Wizard are no exception to that rule, as this marks their eighth record in the six years they've been assembled. King Gizzard has typically delivered enthralling garage rock, garage punk, and psychedelic rock albums since their inception, although they took an artistic detour with 2015's "Paper Mache Dream Balloon," a completely acoustic record. They've revisited their roots with "Nonagon Infinity," and have done so in a compelling way with an "infinite loop." The songs flow together really well and the final track syncs together with the beginning track, making the title of the album quite fitting.
"Scum With Boundaries" – The ILYs:
Both drummer Zach Hill and producer Andy Morin (Flatlander) have established themselves as noise rock and experimental hip hop maestros with their input as a part of Death Grips, a band also featured on my list. Even without the sweat-soaked vocals of MC Ride, these two have pulled together an underrated experimental rock/garage rock record spanning about 38 minutes in length. A track like "Doing Things That Artists Do" wields incredibly simple writing that manages to be hypnotic and intriguing. The abrasive and, at times, silly aspects of the album are incredibly familiar, reminding fans of what makes Death Grips a formidable force in hip hop.
"Sleep Cycle" – Deakin:
For 13 years, passionate fans of the psychedelic pop/freak folk outfit Animal Collective have been patiently awaiting a solo project from band member Josh Dibbs, better known as his moniker Deakin. Although "Sleep Cycle" ends a bit abruptly, with a mere six songs on the track listing, the material presented here is more than satisfactory. Dabbling in psychedelic folk, Deakin creates imaginative instrumentals and utilizes the same hypnotic and dreamy repetition found consistently in Animal Collective's discography. Although he lacks the distinctive vocal performances of his fellow band members Dave Portner (Avey Tare) and Noah Lennox (Panda Bear), Josh Dibbs' charismatic melodies are more than enough to carry this record through 33 minutes. "Sleep Cycle" fits in quite nicely with other ingenious solo albums in this collective, such as "Person Pitch" by Panda Bear, as well as "Down There" by Avey Tare.
View 1 Comment