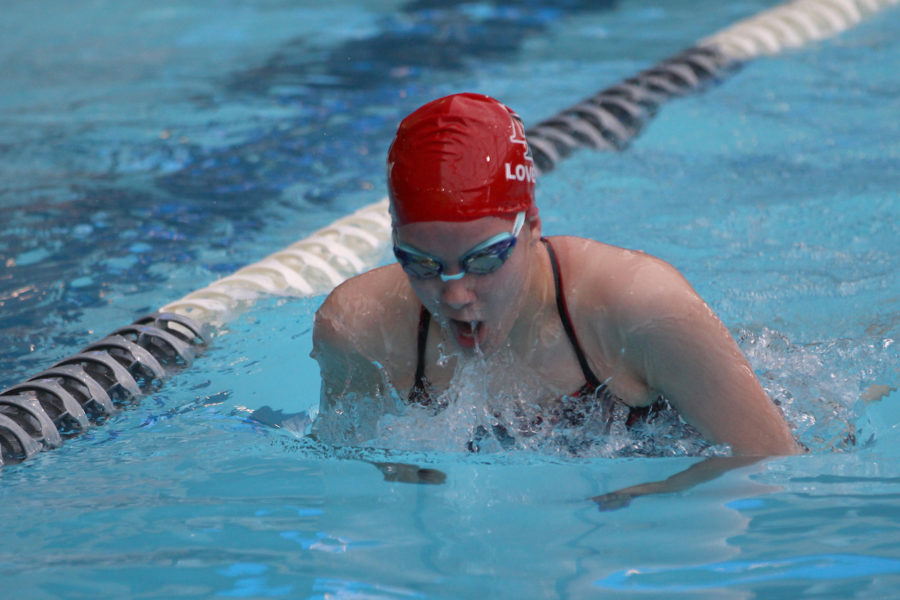 Swimming races in Frisco TISCA meet this weekend
The swim teams will compete in a key meet this weekend with a semi-final on Friday and potential final on Saturday. The meet is affiliated with the Texas Interscholastic Swim Coaches Association (TISCA) 5A, meaning it consists mostly of 5A programs competing at a TISCA time, a certain level of speed that is higher than the standard. Awards will be given out out to the top three girls teams and top three boys teams.
Junior Sam Veitch is confident of his own speed going into the meet, and has an idea of what competition to focus on.
"I think the fastest competitors for our boys team are me and sophomore James Vaughn," Veitch said. "For the girls team our best competitors will likely be sophomore Natalie Womack, freshman Emma Ream, and junior Sloan Carevic. The host team Frisco will be our strongest competition we face there. Each of our contestants will have to participate in at least four events, no more than two of which may be individual events."
The swim team has been training with the understanding of what is at stake.
"We have primarily been working on sprint sets for shorter distances," junior Grant Stout said. "We've been especially motivated and focused because if you lose on Friday, you don't get the chance to swim on Saturday."
There will be several different events held at the competition, with action beginning on Thursday.
"Starting on Thursday, Dec. 8 we'll have two divers competing in the diving competition at 5 pm," Veitch said. "On Friday, Dec. 9, we'll begin as a team at the swimming preliminaries that officially begin at 12 p.m. For the championship, doors will open at 8:30 a.m. on Saturday, warm-ups will go from 9 to 10:45 a.m., and finals will begin at 11 a.m."
The preliminaries will ultimately determine who qualifies for the championship round as well as an opportunity for consolation.
"The eight fastest swimmers/relay in each event qualify for the championship finals," Stout said. "The next eight fast swimmers/relay from each event will qualify for the consolation finals."