Parading through the city
Two dancers from the high school had the opportunity to dance in the Macy's Thanksgiving Day Parade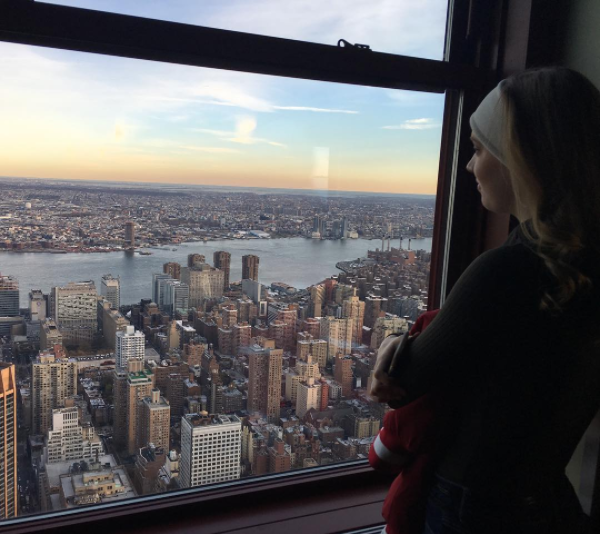 Few annual events have the ability to draw significant national attention year after year, but the Macy's Thanksgiving Day parade has succeeded in drawing millions of viewers for 90 years. Many students have grown up watching the parade on TV, or even traveling to New York to witness the event first hand. For two Majestics team members, however, the significance of the parade was taken to a whole new level this year.
Junior Lauren Willmann and senior Emily Ottinger recently flew to New York City to dance in the 90th annual Macy's Thanksgiving Day Parade, led by Macy's special events. The Majestics had received an invitation from Spirit of America, whose owners know Majestics director Fela Mathy personally. Mathy said that Spirit of America reached out to to the team based on their performance and competition history.
Dancers in the parade had to receive an invitation from one of the production venues or by Macy's themselves or selected by audition to participate.
"It was a really big honor to be able to go," Ottinger said. "When we were marching down the parade, everyone was so excited to wave to us, and those people didn't even know who I am, but they thought I was famous. It was just fun to spread cheer throughout New York."
Willmann and Ottinger's trips were paid for other than the flight, so they took advantage of the opportunity.
Out of about 600 dancers, 40, including Willmann, were chosen to perform in the opening show with the Muppets which was also nationally televised. She said it was "awesome" to participate in that, and she was able to dance in the front row.
"It's kind of a bucket list thing, to perform in the Macy's Thanksgiving Day Parade, and that's something that I didn't want to pass up," Willmann said. "I've never been in a parade before, so it was cool to see all the cameras everywhere, all the people lined up and people coming out of their buildings and windows to watch the parade."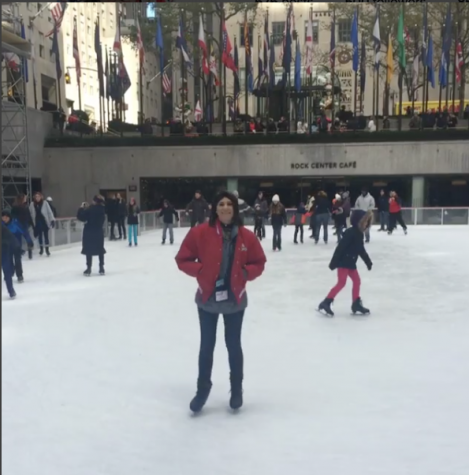 Ottinger said it was nice to celebrate with fellow Americans despite recent political tension.
"The election just happened, and even though people are on different sides of things, it was fun to celebrate and have a good time with people coming together," Ottinger said.
Tens of millions of people watched from home as Willmann and Ottinger, along with 600 other dancers, a marching band, and more made their way down 6th avenue. Once they reached Macy's, the dancers performed a dance which they learned independently on video. The parade ran at 9 a.m. in East Coast, Central, and West Coast time, and ran again in the afternoon, increasing viewers.
Mathy said it was a "really incredible experience" for the girls, calling the parade the "grandfather of all parades." Willman had a similar impression.
"It was really exciting," Willmann said. "It was a cool experience. I don't really get nervous a lot. I was jumping, getting everyone hyped. I was so excited because there were so many cameras everywhere circling and moving around [me]."
Mathy said she was "pleased" that some of her students got to participate in the parade. She had previously worked with a special event company which produced members in the parade for 18 years, so she is familiar with the celebration.
"It's an incredible experience to have a million people on the street watching you march the two miles down to Herald Square and be part of such an American tradition," Mathy said. "Lots of people grew up watching that, so to be able to be a part of it and for the girls to see the behind the scenes pieces is very meaningful."
About the Contributor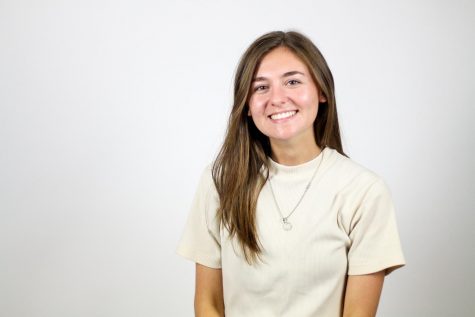 Lily Hager, Editor-In-Chief
With the coming of her fourth and final year of high school, Lily Hager eagerly awaits the senior perks that accompany all who suffer from "senioritis"–including...