Winter colors
The color guard team prepares for their winter season of competitions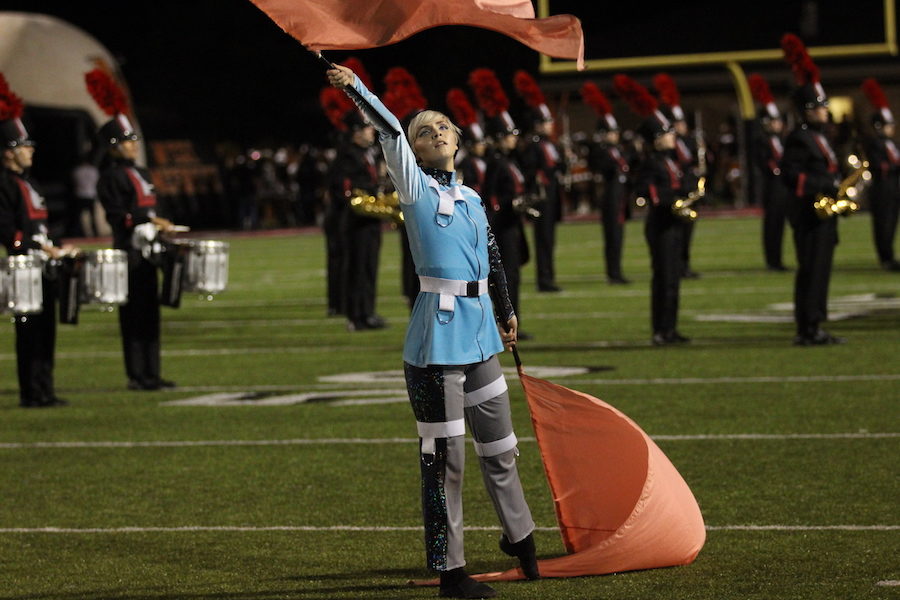 With the color guard performing alongside of the band every Friday of the football games, the winter will be a much different experience for them as they transition into the next chapter of their season.
"I am really excited for the upcoming season," color guard specialist David Sadler said. "It has been a couple years since we have had a competitive season at Lovejoy, and I am excited to bring it back."
Instead of being outside this time of year, the winter color guard team will be moving into the basketball gym. Utilizing their own soundtracks, in the basketball gym, dancers will be choreographing shows using props and costumes.
"We have an amazing collection of designers and choreographers coming in to put together a beautiful show for our students," Sadler said.
They will begin to work on new techniques in spinning equipment and will also have numerous dance camps and clinicians that come in to work with the performers to get them ready for the next level.
"We take our competition show around DFW and compete against other high schools," Sadler said.
The team will be competing with schools around the DFW area throughout January and March. These schools include Arlington Lamar, Flower Mound, Frisco Wakeland, and Saginaw. The state championships will be held at Marcus High School on March 25.
"It's awesome, knowing that we are a small program, and if we work super hard, hopefully we will be able to beat the other schools and bring home some trophies," junior Samantha Snow said.
Last year, team captain Madeleine Hamilton says that the season was 'fun' and a learning experience, but this year she is looking forward to being able to 'apply' what they learned to make their performances even better.
"I'm excited about next semester especially because our theme is really cool, and it gives the team the spotlight and a way to show our performance quality at the best of our ability," Hamilton said.
Tryouts began at the beginning of November, but all students have to do is show up.
"For those who want to join color guard, we have auditions near the end of the year which will introduce people to the equipment and get to know their learning styles," Hamilton said.