Building a stronger department
Theatre technical director in first year working for district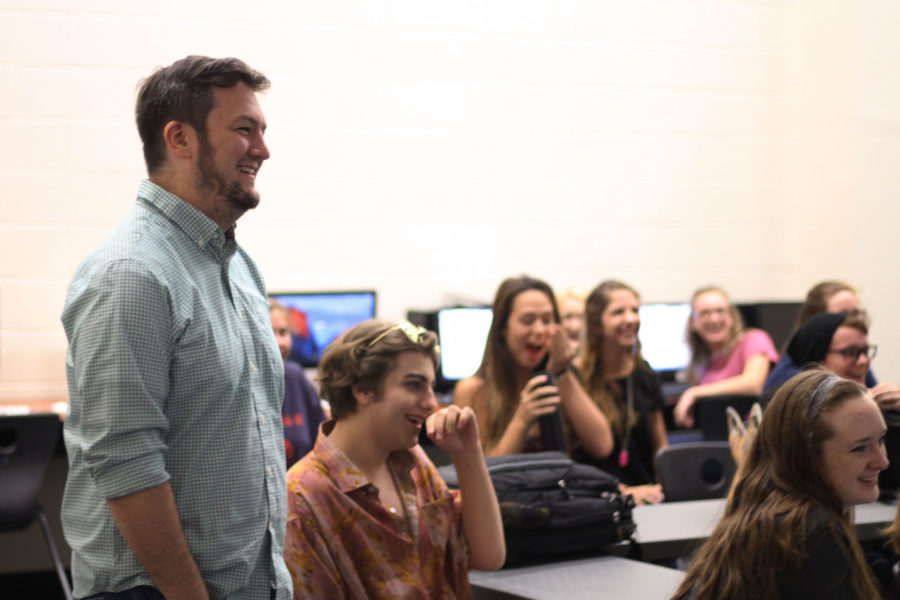 Enter the commons, take a left and turn into E-hall, go down until the very end until construction is heard or seen, take another left, and somewhere around there will be the new tech director, Tim Doyle, doing anything and everything from teaching to painting trees.
The theatre department received a new technical director this year in addition to new facilities that are almost completed. Doyle has adapted to the program and enjoys the work despite construction throughout the department.
"[The shows have] been really challenging because we haven't had a permanent space yet," Doyle said. "And so traveling shows and performing shows with flexible spaces has been interesting and challenging, and that kind of takes away into my other favorite part which is seeing all of the construction getting done and kind of knowing what's to come, and with the new auditorium, black-box, the new scene shop, offices, and kind of the new theatre wing there. That's going to be really exciting when it gets done."
Within his three months of working here, Doyle already feels that he is "thriving in the environment."
"I love it; it's terrific," Doyle said. "It's been such a blast since I've been here. I'm so grateful to have this job, and I try to tell Ms. Brewster and the students every day just how much fun I'm having. It's a blast."
Before coming to Lucas, Doyle worked at Lakeview Centennial and McKinney North, but before that, he was a part of the theatre group Yellow Tape Construction Company in Austin.
"I like to joke that that kind of untrained me a little bit," Doyle said. "I went to college for theatre and had this formal training, and then went to Yellow Tape in Austin, and Yellow Tape was this really more on the fringe type of theatre company where we produced original productions: both straight plays and musicals and dance production.
From Yellow Tape, Doyle gained valuable real-world training for theatre that he brought to the program.
"It taught me a lot to kind of forget about the formal training, and we experimented in some shows that were a little wacky, but it gave me a lot of experience. I met some really cool people and got to work with some really cool people, and so I brought a lot of that experience as well as the formal college training to what I do here," Doyle said.
Freshman Lacey Pelkowski said she enjoys having Doyle as a director due to his experience.
"I think he's really good," Pelkowski said. "He has a lot of experience doing more professional shows, so it's really cool to have him at the high school."
Other students enjoy having him around for many other reasons like his wisdom.
"I love that he is so kind and so welcoming to us especially as a freshmen. He helps us grow as people and as actors," freshman Emmy Straek said. "And with the shows we have done this year which have been comedy which is a stretch for many of us since we are mainly dramatic actors, he has been so helpful and knowledgeable about things that are new to us. And although I loved the old director, Mr. Doyle has been an amazing addition to our theater program, and I am so grateful he decided to come to our school this year."
About the Writer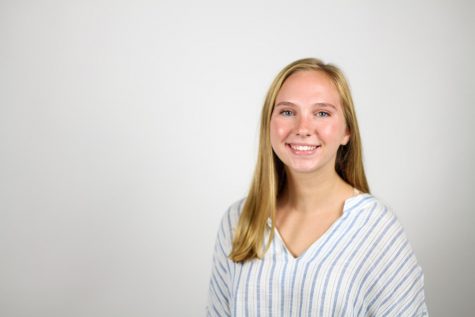 Madeline Sanders, Editor-In-Chief
On her fourth and final year as a member of The Red Ledger, senior Madeline Sanders is thrilled to have her second go-around as Editor-In-Chief with the...