Column: 'Collage' aids in solidifying Chainsmokers' place on top charts
In a musical period previously dominated by pop anthems and hip-hop tracks, the Chainsmokers, a DJ duo from New York City, have made a name for themselves with chart-topping electronic dance music that has been furthered by their most recent EP "Collage."
Electronic dance music, or EDM, has been steadily becoming more and more popular. EDM itself has progressed in the past 30 years from being played primarily at small warehouse parties to being played consistently on top radio stations, and the Chainsmokers have played a major part in the popularization of EDM in recent years.
The Chainsmokers first big hit, "#SELFIE," thrust them into the mainstream music scene. While it was immensely popular for a time, "#SELFIE" quickly lost favor with music lovers. Its one redeeming quality was that it helped the Chainsmokers become recognized.
After the obscenity that is "#SELFIE," the Chainsmokers released the EP "Bouquet." "Bouquet" contains the songs "New York City," "Until You Were Gone," "Waterbed," "Good Intentions," and "Roses." Stylistically, the songs are similar to "Kanye" and "Let You Go," two songs that followed the release of "#SELFIE."
Fortunately, "Roses" was different enough to break into mainstream music and come to be played by popular radio stations. Before long, it surpassed the success of "#SELFIE." "Roses" contains synths that are nearly impossible to forget, and thus became stuck in many music lovers' heads. Because of the lack of success that the rest of the EP received, it seemed that the Chainsmokers' time in the spotlight was over.
Determined to prove that EDM isn't just a passing fad, "All We Know," "Don't Let Me Down," "Inside Out," and "Closer" were released in relatively quick succession. These singles led to the release of "Collage," which contains all four songs. Although not every single found success, "Closer" is the Chainsmokers first number one single and was met favorably in both the EDM scene and the pop music world.
The slow tempo is reminiscent of "Roses" and perhaps reminded people of the Chainsmokers' past accomplishments. Vocally, it fits the mold of most pop songs by having easily memorizable lyrics and a repetitive chorus. While "Closer" lacked a perfect synth and ended up falling off the top charts, it was a strong reminder of the talents the Chainsmokers have.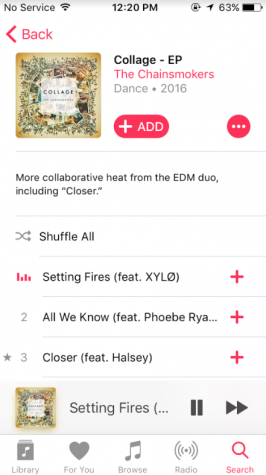 Not to be forgotten, "Don't Let Me Down" was also wildly popular for a time. It features Daya, a relatively new artist who has since been making her mark on the pop music industry. Her status of being a current musical favorite and her powerful vocals combined with an impressive beat blended to thrust "Don't Let Me Down" into respectable standing in the eyes of music fans.
While those two songs are easily the most outstanding of the EP, the one new song that came along with the release of "Collage," "Setting Fires," has been able to discover some popularity. Even though it's too early to predict the overall reception that "Setting Fires" will receive, it has features indicative of a hit song.
Currently, public opinion favors songs with better vocals over electronic sounds. Unfortunately, "Setting Fires" has too many different synths to surpass the success of "Closer" or "Don't Let Me Down." However, despite lacking the perfect musical recipe, "Setting Fires" is well crafted and has its place in pop music. The vocals are catchy enough to provide momentary acclaim, which is all that is necessary to hold people over until the Chainsmokers' next single.
Despite the minor disappointment that "Collage" only contains one new song, overall it portrays musical maturity and is certainly aiding in cementing the Chainsmokers' place in popular music.