Divided attention
Student athletes split time between multiple sports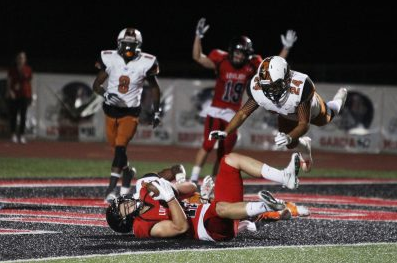 Tonight he was needed for more than just one game.
He was more than flattered, but he didn't realize how tough it would be to give 100 percent for two different sports on the same night. The plan was simple, play for the first half of the 6 p.m. basketball game, then quickly travel to the 7 p.m. soccer game. The constant activity was challenging for him as a freshman last year, but sophomore Caleb Toomey's love for his sports kept him locked in.
"It was pretty exhausting, and it pretty much [took] everything out of me," Toomey said. "It was a lot of work but I definitely got stuff out of it."
With the trend of focusing on just one sport becoming more common, athletes like Toomey, junior Kaylee Rekeita, and senior Steven Prudhomme stand apart as they tackle overlapping sports.
In addition to the pressure of academics, multi-sport athletes also manage the stress of more time lost to practice, games and bonding with teammates.
Rekeita balances two winter sports, basketball and soccer, though her roles with each team are different.
"In basketball I'm more of a leader for the team, while in soccer I do lead, just not as much of a major role as basketball," Rekeita said.
Basketball teammate Taylor Meixelsperger expressed admiration for Rekeita.
"It takes a lot out of a person to manage two sports plus school work," Meixelsperger said. "I'm proud of her for being able to do it."
Change in pace for different sports is also a challenge for multi-sport athletes to manage.
"With football you're going hard for seven seconds with a small break," Prudhomme said. "For basketball it's nonstop running. So by doing this I get mentally tired from lack of sleep and physically tired from constant physical activity."
When seasons overlap, sometimes the players have to prioritize one sport over the other.
"I usually alternate game days," Toomey said. "There's always a little pressure of when I have to pick one over the other when one sport starts district."
When players miss one sport for another, they're responsible for catching up in their other sports, boys basketball coach Kyle Herrema said.
"It takes a little extra time where we'll just go over plays together, or stay after school and watch film to keep [Prudhomme] up to date," Herrema said.
For Prudhomme and the others, this commitment comes with a cost.
"Because I wake up early throughout the school year, I usually feel sleep deprived," Prudhomme said. "It hinders me in school academically because I feel unmotivated and want to catch up on sleep rather work on assignments."
Even though it can seem like a burden for students, players have found some positives that can outweigh the negatives.
"When we're running sprints, [Kaylee] is always steps in front of everyone because of her conditioning in soccer," Meixelsperger said.
Prudhomme said it's a "grind" playing two sports, but he wouldn't make a change.
"I have a love for both sports and I can't live without them," Prudhomme said.