Senior Moments: One last march
Editor's Note: Senior Moments is a series where seniors periodically share seemingly insignificant moments during their last year that remind them of good times, excite them for the future, or even just simply just remember memories.
"Remember this feeling."
Every year the seniors would tell me the same thing. I wish I had heeded their advice.
There I stood looking down lines of my friends as we awaited the contest we'd been preparing for this whole season.
We followed our director, Paul Heuer, to the back of the field. Filing onto the sidelines, we performed our typical pre-contest warm-up.
I remember him standing there looking at all of us.
"This whole season has been a crescendo to this moment," he said. "Have a good show."
This is when it really hit me. I'd never have this chance again.
This was the last time I'd perform a show like this. This was the last time I'd be in a stadium full of hundreds of people, all completely silent. All waiting for the first note.
We whispered "good luck" as we found our starting set on the field one last time. I looked for the last encouraging smile from my friend, Emily, as I went to stand at attention.
I can still see the red feathered plumes swaying in the breeze as we waited for the signal from the drum majors.
One.
Three.
Five-Six.
After the count off, the show is always a blur. You do exactly what you've done countless times before. You barely think about the step offs, the set changes, the holds, you barely even remember playing the notes.
But I remembered one particular note this time. The last note.
My four years of early morning practices and night rehearsals and Saturday contests, all ended with one note.
No more falling out of seats on early morning bus rides.
No more swatting away crickets from Megan as we watch other bands perform.
No more throwing popcorn at Garrett or spilling Noah's soda.
No more laughing at Rene'e wearing four letter jackets at once.
No more seeing my favorite people every day of every week.
---
As we held the chord one final time, I looked around at all my fellow seniors and at the applauding crowd above us.
And that was it. The last note can't last forever, no matter how much we want it to.
Drum taps boomed across the field, and with that we left four years of hard work behind us.
I've complained about marching band for every one of those four years, but now I'd give anything for one last contest, one last run, one last set.
One last note.
Leave a Comment
About the Writer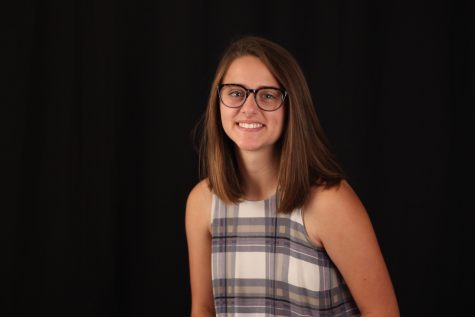 Mandy Halbert, Staff Reporter
Mandy is a senior this year, but she's still just as afraid of high school hallways as she was as a freshman. But aside from that, she looks forward...