Team Trivia
Quiz Bowl starts third year at high school
"Useless" information has just gotten a bit more useful. In a case of trivial pursuits, random information is key to a successful competition. That is what quiz bowl is all about.
"Quiz bowl is a trivia competition," AP chemistry teacher Jason Taylor said. "It's kind of like a little Jeopardy, a little Trivial Pursuit. It does cover all topics even like TV shows and music and sports and things all the things we learn at school. Everything is fair game."
And "everything" is the same word junior Taite Borozny used to describe what quiz bowlers must be ready for in competition, like the one coming up on Oct. 22 in San Antonio.
"We are looking for people who just know a lot, or have something they are passionate about that they can knowledgeably and willingly answer for the team," Borozny said.
Preparing for competitions isn't like studying for a test since quiz bowl team members don't have a study guide or notes to prepare with. They have to rely on a wealth of general trivia knowledge to succeed. The team has practices one to two times a week, on Mondays and Fridays after school in D222.
"Usually our meetings involve a combination of learning some desired objective and then for the rest of the meeting actually practice questions or strategies," senior Noah Corbitt said. "That usually means whoever I have helping with the educational side of quiz bowl will have some sort of lesson prepared. We'll learn that lesson with our coach. After that we will begin practicing with our buzzer system."
This year will be the school's third year competing in quiz bowl. Corbitt said the school can enter more than one team in a competition. Students of all grades are allowed to participate quiz bowl. There are many different topical divisions, giving participants a world of opportunity to choose from. Recently a large middle school division has been established as well.
For Borozny, her best topic is "generally geography or history," though she noted that the broad range of questions can make even that subject a challenge.
"It could be like 100 B.C. in Ethiopia and there is just a lot of questions like that that I am not very knowledgeable on," Borozny said.
While quiz bowl members prepare in a variety of ways, including reading, daily lessons, and just quizzing each other, Borozny said another strategy can pay off as well.
"A lot of times one of the quiz bowl strategies is, if there is like an author or something and you don't know, then it is better to just say Smith, because it's one of those common names," Borozny said. "One time we guessed that, because we had nothing else to say and it was the correct answer and it was a huge point gain for us."
About the Writer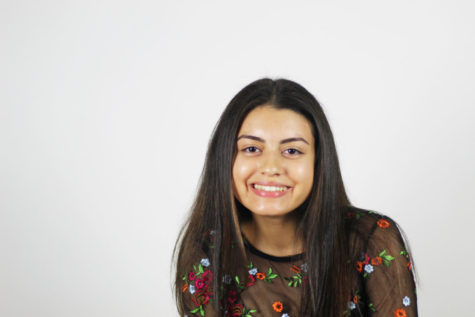 Gaby Garcia, Section editor
Croc enthusiast, Lululemon lover, and guac fanatic are just a few terms used to describe senior Gaby Garcia's lifestyle. As a true athlete would, Gaby...