Not-so-funny occurrence
Clown sightings throughout community cause scare despite being debunked by officials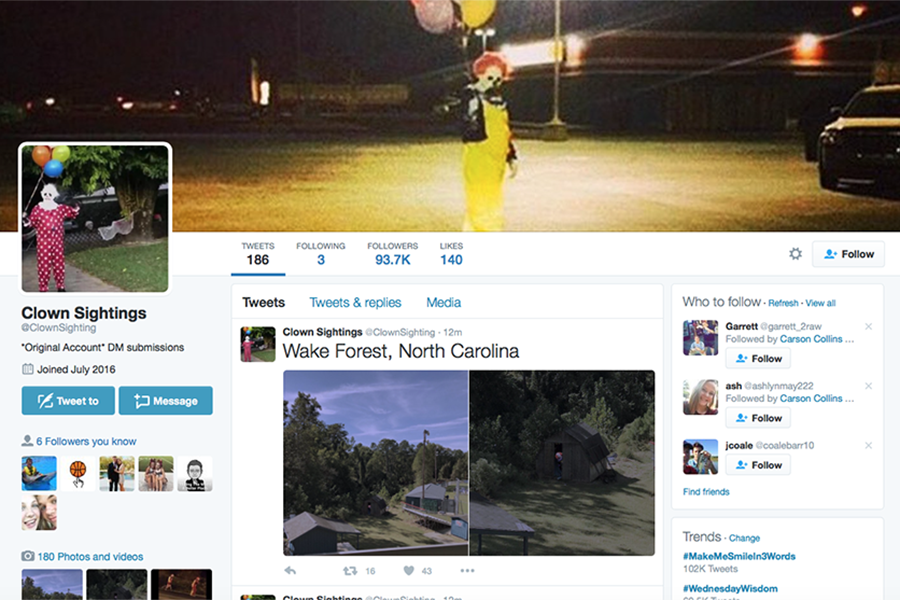 Though a clown panic has spread across the nation in recent weeks with alleged sightings of scary masked individuals wielding harmful weapons being reported on social media, local law enforcement agents are skeptical.
"They're all rumors," said Orlando Hinojosa, community resource officer for the Denton Police Department. "It's all a hoax that unfortunately everyone puts on social media."
Still, Hinojosa said, the police don't ignore the concerns of citizens.
"If somebody calls, we go check it out," Hinojosa said. "Any call that goes to the police department with the concern of a citizen, we do check."
School resource officer Joe Peebles said there haven't been any "reportable occurrences" in the Collin County area.
"There's been rumors of some people dressing up in clown costumes and just trying to get a rise out of people," Peebles said.
Many videos purporting to depict people dressed as clowns running after cars, sometimes holding bats or knives, have appeared on Twitter accounts such @ClownSighting.
"We do take every threat seriously, so if something is posted, we do check on it," Hinojosa said. "For 99 percent of the time, it's a hoax."
The clown panic isn't new. According to ABC News, in 2014, there were reports about clowns alarming people in the California area and were popping up in other states. Some students like freshman McKenna Christiansen disbelieve the viral rumors.
"I think it's a hoax," Christiansen said. "It's an advertisement for a movie."
Others like sophomore Devyn Veitch said the sightings still make her uneasy.
"I think the whole dressing up as clowns thing is dumb, but now it's scary because I feel like one will come for me in my sleep," Veitch said.
Freshman Kylie Joest claims she saw a clown late on Saturday night at 9 p.m.
"We were walking past the woods behind Stacy Ridge Park because we wanted to see if there was actually any clowns or if people were just kidding," Joest said. "A clown walked out behind us, and we pretty much ran for it."
In terms of the Denton County area, there have been no harmful attacks reported. According to WFAA 8 News, multiple schools have received clown threats that turned out to be a hoax. Many clown sightings have been reported in places such as Plano and Richardson.
"My take is that people are dressing up as clowns to get a reaction out of people. There are some stories I've heard about clowns trying to harm or abduct children," junior Greyson Finch said. "But for the most part, I think it's a joke to scare and get a rise out of people."