Big stage, big cleats to fill
Sophomore Carson Collins takes on job of starting quarterback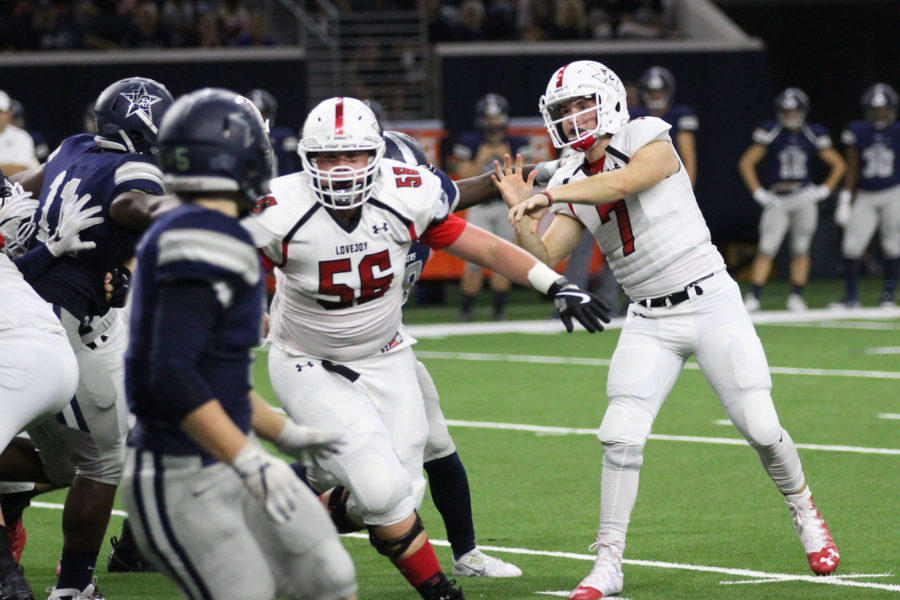 Ten years ago, new varsity football starting quarterback sophomore Carson Collins first stepped on the field as a flag football player in hopes of helping his team to a victory as a running back. Fast forward to now, and Collins has created a whole new story for himself.
"I started out as a running back, and then I switched to quarterback because I was the only one that could throw the ball and remember the plays," Collins said.
As a kindergartener on a flag football team, there isn't much expected out of a 6 year old, but that did not stop Collins from playing the sport he loved. And now in his second year of high school, he's following in the footsteps of 2016 graduate Bowman Sells, who earned a scholarship to the University of Houston for his quarterback play last fall.
"Carson craves improvement, and therefore, he's always trying to find ways to get better," head football coach Todd Ford said. "He has a knack for doing that."
Of course, every athlete strives for greatness in their own ways, and for Collins, it's hard work that pays off the most. With the help of his father, school board president Chad Collins, pushing him to be the best he could be, Collins drives all the way to the Dallas area to train with a quarterback coach whom he said has helped him greatly along the way.
Collins' first year of high school football started in 2015 as the quarterback on the freshman team. At the end of 2015-16 school year, Carson began his journey to the starting job.
"Since spring ball started, Carson has developed to be a great young quarterback," senior running back Abe Dueck said. "The skills he has displayed in his first season on varsity surprised me. I am very proud of his achievements and leadership so far."
The start of football season was his time to rise to the occasion on the field in front of Ford, the new head coach. After beating out two upperclassman, Collins snatched the spot of the varsity quarterback. Feeling the pressure of being the young leader on the team, Collins is confident that he can get the job done when needed and perform to the best to his abilities on the field for his team.
"It's fun just to play with all my brothers, and it's like a family to me," Collins said.
Even though the pressure still creeps up on him every once in a while, his teammates are always right alongside him. Being on the Lovejoy football team gives Collins the opportunity to play the sport he loves with his "second family" and Ford, whom Collins said is like his "second father."
"[Ford] seems a lot more professional because he used to coach in college," Collins said. "He keeps everyone calm and makes sure everyone is making the right choices and makes sure we are doing what we need to do to be the best we can."   
Ford explained that there are three types of leaders: vocal, quiet, and those who lead by example.
"Carson is a combination of all of the types of leaders because he is not afraid to lead through speaking, and also leads by example," Ford said. "I think all of those are great characteristics that a quarterback has to have."
Through Carson's first four games of the season he has completed 61 passes for 812 yards, with seven of those passes completed for a touchdown according to SportsDayHS. On Friday, Sept. 23, he'll take the field in hopes of leading the Leopards to a homecoming victory.
"I feel really good about our game this week," Collins said. "West Mesquite has a talented team for sure. I think we will have an advantage over them with our strength, intelligence, and discipline."