Living the McDream
Kate Morgan interns for her father at Medical Center of Mckinney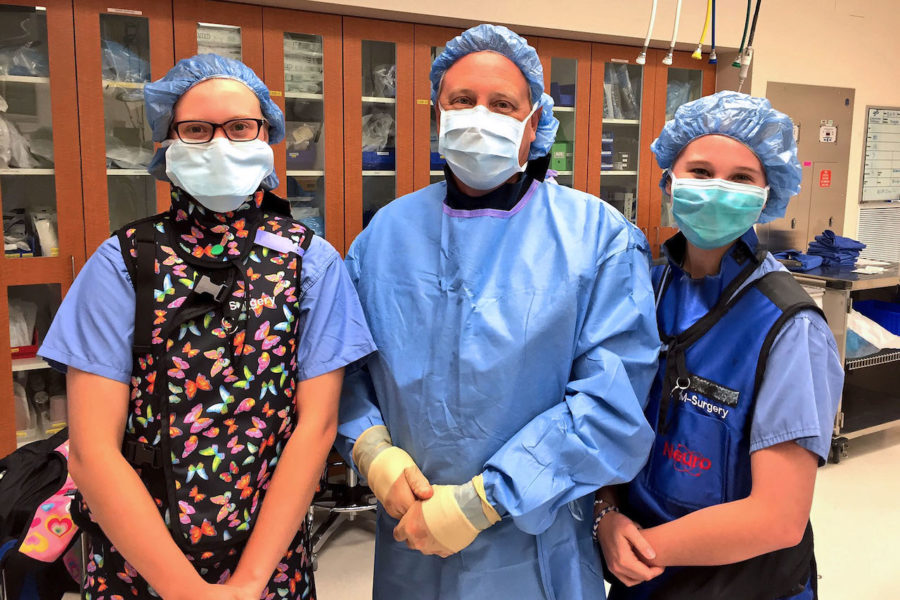 Some classmates may gag and shield their eyes from the organs packed into the animal lying open on the science table for dissection, but junior Kate Morgan rolls up her sleeves and gets ready for the dirty work.
Her deeply-rooted fascination with anatomy and the human body landed her a summer internship at the Medical Center of McKinney where she observed around 20 surgeries performed by her dad, neurosurgeon Dr. Brent Morgan.   
"I've seen the brain, I've seen back and neck bones, I've seen fusions of different vertebrate; the most recent one I saw was an emergency surgery with someone who was from the ER," Kate said. "He had a cerebellar hemorrhage, and so basically we had to come in from behind and get all of the blood clot out, so it's pretty cool."
"
I've seen the brain, I've seen back and neck bones, I've seen fusions of different vertebrate."
— Kate Morgan
Every Tuesday morning around 6 a.m. from June to August, Kate and her dad would begin their day at the hospital. Kate followed her father's hours, so when he would leave, she would follow.
Kate was given the chance to observe inside of an operating room, or OR, an opportunity that is typically reserved for students in medical school.
"When you step in (the OR) it just feels like 'oh my gosh this is a new world'," Kate said. "Time, there is no concept of it. You can start a surgery, and it can be five hours, and it feels like 'oh my gosh the sky is dark now.' I didn't even realize it."
Although she was not the one saving lives in the operating room, Kate said she got to experience something bigger than herself.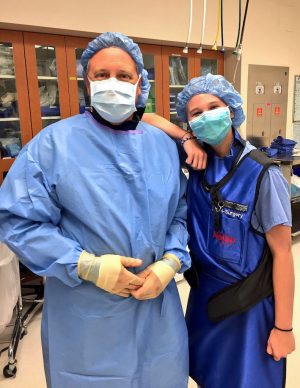 "I think my favorite thing is being so close to something that is so important," Kate said. "If something goes wrong, you just know that it's probably going to be the most important second of that person's life.".  
Many teenagers have trouble deciding what they want to eat for dinner, let alone decide where they want to go to college. However, Kate already has her future in medicine laid out in front of her.
"Right know, I kind of want to go and get my undergraduate at the University of Notre Dame in Indiana, and I really want to go to Northwestern (for medical school)," Kate said. "I want to be a neonatal surgeon, so newborn surgeries or intrafetal surgery which is basically inside of the womb, so as technology develops I want to help pioneer it."
According to her teachers, Kate has always been devoted to her work and grades.
"Kate's a very diligent student, she's very conscientious about her grades, she's very serious about her future in what she wants to do with going into medicine," biology teacher Theresa Dollinger said. "She has a vision and a path, and she always has. If she focuses on it, and she puts her mind to it, I think she'll be very successful."
To help prepare her for college and medical school, Kate doubled up on science classes her sophomore year, and is currently doubled up in math classes this year. She also plans to be a part of HOSA-Future Health Professionals to get more involved.
The OR is known for being a high-pressure environment and the surgery field requires years of education and training, but that isn't holding Kate back.
"I'm a big adrenaline junkie," Kate said. "Overall not a lot of people would get to do it, and so being able to have the privilege and the honor to do that would probably be the coolest thing."
About the Contributor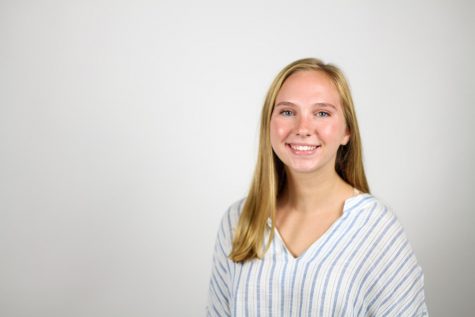 Madeline Sanders, Editor-In-Chief
On her fourth and final year as a member of The Red Ledger, senior Madeline Sanders is thrilled to have her second go-around as Editor-In-Chief with the...