Spanish Club allows application of language learning
One would think that they have to cross the border to make a difference in the Spanish community, but some students are taking the opportunity to help some genuine Spanish speaking families here in Texas.
The Spanish Club is a group of students who are "interested in learning more about not only speaking Spanish but Spanish culture," Spanish II teacher Kenneth Muncy said. These interested students acquire this knowledge through activities like Spanish-themed parties and community projects.
Club president and senior Sophie Herran organized different service opportunities so that students in the club could use their Spanish-speaking skills to help others in need. Spanish teacher Seth Sartain attributed the club's strong purpose to Herran, and said that through her and other factors, students see that they "can actually do something real in the world with [their] Spanish".
"Our club president has done a great job here over the last few years of kind of organizing us, but also providing us with that purpose of community service," Sartain said.
reshman Sydney Fluker attended the first meeting on Aug. 31 and plans on attending more.
"Some people think you have to speak Spanish, like fluent, to do it, but you don't," Fluker said.
Students seeking more Spanish cultural experience are welcome into the group. Muncy added that the club can help students in their Spanish classroom as well.
"Just the use of Spanish, becoming more comfortable and familiar with it [helps Spanish students in the classroom]," Muncy said. "Plus understanding the culture also helps to understand why the language is used the way it is."
According to Sartain, while last years' active members counted 20-25, this year he remembers seeing 50-60 students at the first meeting.
"This year has been kind of a success story this far," Sartain said. "Our numbers have grown exponentially."
Sign-ups are always available for this growing group, and meetings will continue throughout the year on most Wednesdays, 8:15-8:45 a.m. and/or 4:15-4:45 p.m., depending on which morning or afternoon fits each student's schedule. Membership dues are $20 to fund t-shirts and meals. The club has a here is a club Google Classroom for any announcements, and fliers are posted on bulletin boards as well.
The Spanish National Honor Society is also open to new members for a limited time, but with more requirements.
About the Contributor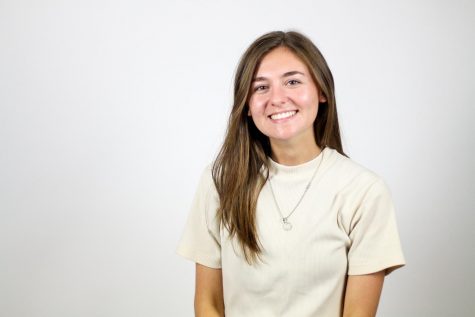 Lily Hager, Editor-In-Chief
With the coming of her fourth and final year of high school, Lily Hager eagerly awaits the senior perks that accompany all who suffer from "senioritis"–including...