CX-cellent
Mair, Corbitt form friendship from partnership in drive to national debate tournament

Graduate Stu Mair and rising senior Noah Corbitt have been competing in cross examination debate nationals in Salt Lake City this week.
The pair have been preparing for the big event sponsored by the National Speech and Debate Association, for more than a year with the help of their coach Tami Parker. Mair and Corbitt are in the top one percent of competitors to make it to the national level, and the first from the high school to make it to that level in CX debate.
CX debate, also known as policy debate, consists of a pair of two-student teams who debate head-to-head over a resolution, with one team taking the pros and one team arguing the cons. Both teams are given timed periods to present their arguments and the best argument wins the round.
The resolutions are given to the teams about a year in advance, so they have plenty of time to gather copious amounts of research with which to form arguments and rebuttals for either side. This year's resolution is "The United States federal government should substantially curtail its domestic surveillance."
Parker has been coaching Mair and Corbitt since they were freshman; she calls them her "babies." She said she is thrilled that they advanced to nationals together.
"Noah brings that calm to the team and to the partnership and Stu brings that extra 'oomph' that they are going to need to win at nationals," Parker said. "Together they are quite the force."
Corbitt said he and Mair "complement each other's strengths."
"Stu can be very good at detailed line by line stuff like finding arguments," Corbitt said. "I can be better at more rebuttal -type speeches where you have to crystalize where things are going."
Mair and Corbitt started their debate careers in middle school when they did debates for their math class. They haven't always been debate partners, but they have become good friends.
"Debate becomes like a family," Mair said. "It's just kind of those moments in between rounds when we're just horsing around, having some fun."
But when the fun is over, it's back to preparation time, and that means speed drills and speaking drills which strengthen diction.  
"It's a close community of friends that all work together to do these really cool activities," Mair said. "It's really taught me how good of a speaker I can be if I practice and rehearse."
All of that hard work would pay off if they advanced to the final round, for this would give them an opportunity to win the CX debate national championship. Typically, a round would take place in a regular classroom. But the final round at nationals is completely different in many aspects.
"At nationals, at the end, if you make it to that final round, you debate on stage in front of everybody," Parker said. "And it is truly an amazing thing, and they'll have between nine and 11 judges. And it's videoed, so it's a very exciting thing for them."
Both Mair and Corbitt find different rewards in the experience. Corbitt said he enjoys the application debate can have in the real world and the experiences it provides.
"It lets me talk about things that do have a sort of real world significance," Corbitt said. "And it lets me gain awards and stuff for arguing with people so that's always fun."
Mair said he appreciates the proficiency debate can lead to and the value in competing in events where the ability to speak well publicly is crucial.
"I've stuck with it for four years now and it's been one of the greatest decisions of my life," Mair said. "It's really taken my public speaking skills up to the next notch."
Parker said that Stu and Noah are both extremely intelligent, hard working, flexible and very self-motivated.
"Stu has that personality, that charisma to step in front of people, and he has this great quality that makes people want to listen to him," Parker said. "Noah has the ability to pull information I don't know how far that boy can remember things, I mean he just has a mind like a steel trap."
Parker says there is no way she can possibly be as prepared as they are on the topic.
"They did this together and they're going to nationals," Parker said. "If you are willing to do the work, you will be successful."
Editor's note: Beginning journalism students Caleb Kwon, Grant Beard, Falyn Brothers contributed to this story.
About the Writer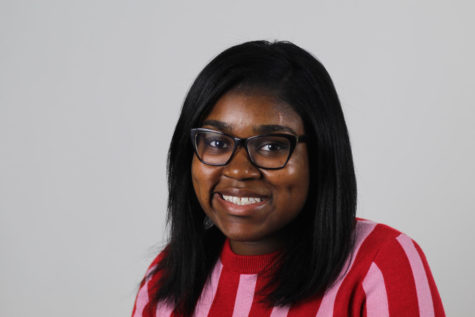 Nnenna Nchege, Staff Writer
Senior Nnenna Nchege is entering her second and final year on The Red Ledger staff. As Nnenna prepares to end her journey at Lovejoy, she is proud to spend...