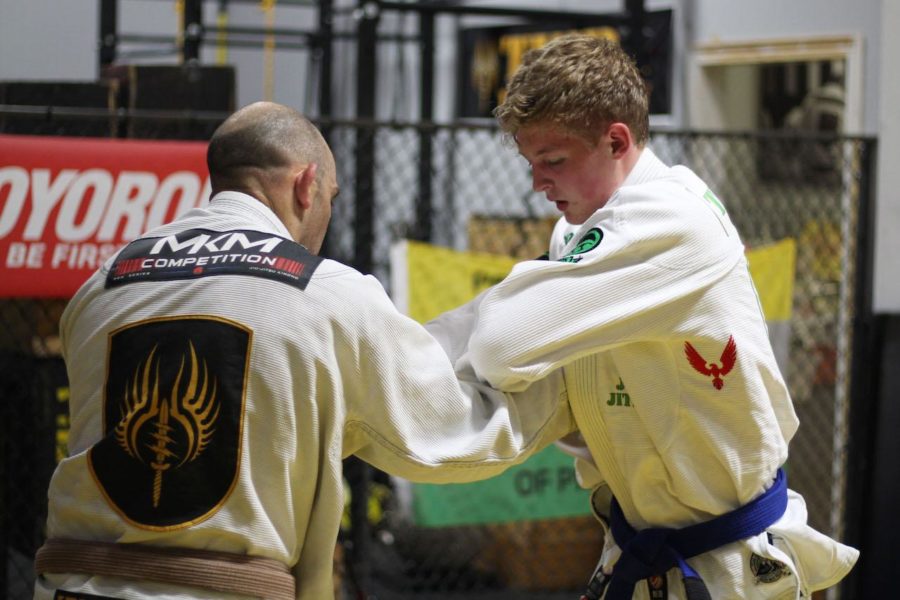 Physical skills, mental tactics
Sophomore trains at Brazilian jiu-jitsu gym with veterans
May 17, 2016
Ripping through the air of the Tier 1 Training Facility in McKinney, the clap of sweaty palms echoed like a gunshot as sophomore Dayton Thompson and his adult training partners clapped once in unison before breaking into pairs. The head instructor had just demonstrated a move, and now it was time for the students to practice.
A sheen of perspiration glossed Thompson's forehead as he practiced the move, which involved him laying with his back on the mat while grappling his opponent. Thompson's legs were wrapped around the man's hips and he held the man's arm in a lock. They morphed into a single, twisted form that was stark white due to their spotless gis, the lightweight uniforms worn in a variety of martial arts. This move is called a shoulder lock from guard, and Dayton's goal was to make his partner submit. If the man didn't, he'd rip ligaments in his shoulder.
Thompson's face flushed red as he clutched his partner, and his lips were locked in a slight grimace as the muscles of his face tightened and trembled faintly. The man finally tapped out when the pain became too great, and Dayton let out a breath as he let his partner go. Then they switched positions and did the whole thing again.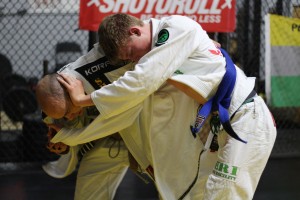 Thompson has been training in Brazilian jiu-jitsu ever since he finally convinced his mother to enroll him in classes about two years ago. However he said the sport "always kind of interested [him.]" Thompson's head instructor, Alan Shebaro, noticed something different about Thompson from the second he started training under his tutelage at Tier 1.
"[He was] very enthusiastic, very eager to learn," Shebaro said. "Usually around that age they're all over the place, they don't know what to do yet, don't have a set path. But he came in and he already knew what he wanted to do and wanted to self improve. That was definitely a very rare thing to see from [a] kid that age, from my experience."
While some people may look at all forms of martial arts as one in the same, Brazilian jiu-jitsu is quite different from practices like karate and taekwondo.
"It's a grappling-based martial art, and so versus wrestling, for instance, it's submission, so you have chokes and joint locks and stuff like that," Thompson said. "If you lose, you basically just tap out. [If] someone gets at risk of breaking their arm or something, they'll tap out. It's submission-based grappling. There's no striking."
Brazilian jiu-jitsu has not only taught Thompson physical skills, but mental tactics. Thompson has learned to remain calm and think things through while under pressure, whether it's the pressure of a physical body on top of him or of internal stress.
"Obviously [it's taught me] perseverance and being able to kind of evaluate things under stress," Thompson said. "[When] you have some guy who's trying to cause physical harm, you have to kind of be able to think, 'Okay, what's my best angle of attack? What can I do from here? How do I, first off, survive what I'm doing?' So, it's kind of like being able to kind of keep calm and fight against that urge to go crazy and being able to just, in any situation, be calm even though you're under pressure. Any time I need to be able to, say, get a lot of stuff done or homework or whatever, I can stay calm."
While Thompson said he's learned quite a bit through Brazilian jiu-jitsu, Shebaro said the combat sport fit Dayton's disposition like a glove from the very beginning.
"He's actually a very analytical-type person, so I think that the sport itself pretty much complimented his personality," Shebaro said. "I don't think it really has changed him very much. I think all it has [done is] basically given him an outlet to expand his mental and physical outlook on things, in a sense. It was a sport that fits him perfect, [because] he's not told exactly what to do and how to do it; he has to figure out based on the situation."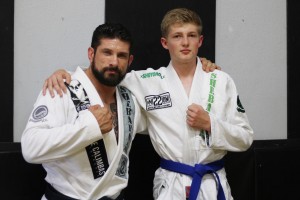 Brazilian jiu-jitsu has not come without its challenges. Thompson trains with adults who are much larger than him, and this adds another level of difficulty to the already grueling task of defeating someone that has overtaken him.
"Everybody in there is like 200-plus pounds," Thompson said. "That's the hardest thing. I showed up there probably two years ago [and] I was probably like 120 pounds or something, so I was just getting destroyed by all these guys that are bigger than me."
Thompson will likely put the skills he's learned in jiu-jitsu, both mental and physical, to good use in the future, as he wants to attend the United States Naval Academy.
"My grandpa was active duty special forces and so was my jiu-jitsu coach," Thompson said. "They're kind of among a really small group of people, and all the people that are coming out of there are really elite, specialized group of military, and police, and firefighters, and everything. I think it's definitely something [that] interests me. But also being that my education would be paid for, I'd actually get officer's commission, and its also one of the best educations around so seems like a good overall opportunity."
Thompson's jiu-jitsu training facility is linked to a new organization called the We Defy Foundation, which, as the organization's president and Thompson's fellow training-mate Joey Bozik said, "helps combat veterans with recovery through training Brazilian jiu-jitsu and physical fitness training." Thompson volunteers for the foundation, whether he's helping on the mat or behind the scenes.
"Dayton comes from a lineage of veterans, so he has a deep appreciation for veterans and the sacrifices they've made for this country," Bozik said. "He loves his country very much, and he's one of those guys that's always the first to raise his hand and volunteer to help out any way that he can. If he's moving boxes he'll move boxes, if it's training jiu-jitsu with someone [he'll do that]. He's always open to helping out anybody, which has been a huge thing for us. As far as on the logistical side of the organization, he's stepped up and helped us with fundraising and filling out paperwork."
Bozik has seen how the foundation has affected Thompson, whom, Bozik said, was already caring and compassionate.
"I think whenever you have an experience in life, especially something where you're helping people or giving back, it definitely makes an impact on you," Bozik said. "I can definitely tell it's made an impact on Dayton, and he enjoys doing it and helping, which is a big deal. He doesn't do it for his own vanity or to make himself feel better or his own ego. He does it because he truly wants to help and see someone succeed. He already had a big heart, but it's good to see him fulfilling it and doing things that make him happy."