New look on the field
Marching band uniforms to receive upgrade for 2016 season
After 10 years with the same hats, jackets, and bibbers, the band will debut a brand new look this fall. New marching uniforms have been designed for the upcoming football season.
"We had to do three bids from three different companies," head band director Paul Heuer said. "Sometimes they send first designs with that, so we talked about what materials we had with [uniform design company] Fred J. Miller. They used a lighter weight material and they have the snaps in the sleeves and in the hems, and we decided, 'yeah we think we want to go with them.'"
After selecting FJM to create the uniforms, Heuer and director Daniel King began deciding on color schemes and design features.
"We wanted to be able to have some sort of implied double L on there," Heuer said. "There are some new things where they print stuff on the uniforms, so like the stripes that are going to be on there are kind of a 3D printing."
They received the first design sketches and the first prototype followed shortly after.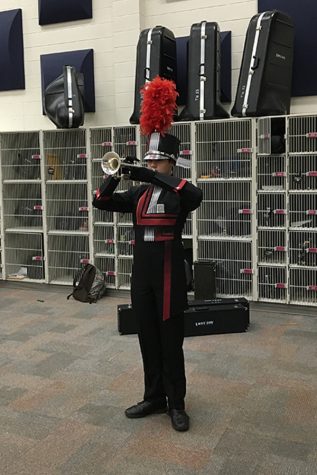 "When we got [the prototype], it was way too busy," Heuer said. "We didn't like it. It had too much with the stripe on the sleeve and full box and all that stuff. It kind of looked like Darth Vader."
Around February, the directors met with the designers at a music convention to tweak the uniform and discuss changes.
"It was just kind of back and forth a lot," Heuer said. "We finally ended up with what we wanted."
The students have seen the designs and saw the first two prototypes.
"I like it," junior Brady Duke said. "I like the asymmetrical look they're going for. I think it will bring us more into the modern era."
The uniforms are expected to arrive around August. After unpacking the pants, and jackets, and gauntlets, and hats, and all the pieces that make up a marching uniform, the students will begin sizing.
"Usually we do a summer uniform for those first games because it's so hot," Heuer said. "We'll [wear the uniforms] at a home game first, most likely. It just depends on what the schedule looks like and how the weather is and when the heat breaks."
When August arrives, it's out with the old and in with the new. The band's old uniforms have been bagged up and will soon be replaced.
"They're put up in an auction site," Heuer said. "Usually they sit there for a while. Most of the time they don't get sold, but every once in awhile there will be a band where maybe something got damaged or there was a flood or something and they just need uniforms. If they don't sell they'll be put in storage somewhere in the district where they house old uniforms and stuff that can't be used anymore."
The students look forward to the arrival of the new uniforms and the change of appearance of the band.
"It's really exciting," sophomore Bryn Goldsmith said. "I hope that they're going to fit better and look really good."