Music according to Kevin: A pre-Grammy Top 10
With the recording industry's biggest night coming up, a look back at favorite albums from 2015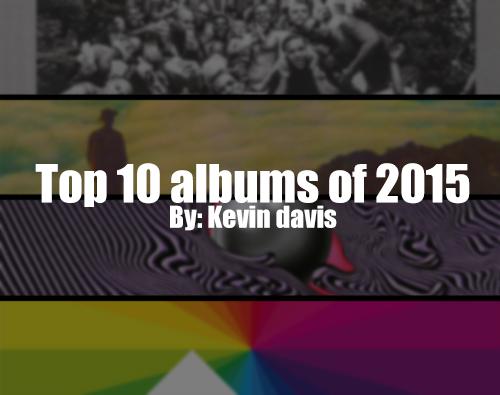 In honor of the 58th annual Grammy awards on Feb. 15, I have compiled a top 10 list of my favorite albums of 2015. These albums were the ones that I connected with the most over 2015.
---
1. To Pimp A Butterfly – Kendrick Lamar (March 15th)
The top album of 2015 was a very easy choice. Kendrick Lamar's "To Pimp A Butterfly" was the best album to come from the year 2015 and is also Lamar's best album to date. This record has a central theme that mainly revolves around racial issues that exist today, and I think Kendrick does a wonderful job voicing his opinion in a form of art. As well as touching on some very sensitive subjects, Lamar tells a poem throughout the album.
As the album progresses, Kendrick tells more and more of the poem until he recites the full poem in the album's outro "Mortal Man." In addition to the writing on the album being great, Kendrick's flow and delivery on every song is very impressive. On top of all that, Kendrick's verses on this album are over a very diverse collection of beats. You have a jazz-influenced records like "Wesley's Theory," "For Free," "These Walls." You have hard hitting beats like "The Blacker The Berry," "Hood Politics," and "King Kunta." There are also feel-good, pop-sounding tracks like "i" and "Alright."
The diversity of sounds on this album is a very big reason to why Lamar keeps the listener entertained even through a 78-minute run time. In my opinion, Kendrick Lamar blew every other album of 2015 out of the water, and that is also a very big reason why he is nominated for 11 Grammys and will also be performing. All in all, I think "To Pimp a Butterfly" is not only the best album of 2015, but one of, if not he best album of the decade.
Favorite songs: "King Kunta," "These Walls," "u," "Alright," and "For Sale?"
2. Cherry Bomb – Tyler the Creator (April 13th)
If you know me, you know why this album is so high on my list. An album that didn't get much critical acclaim, or acclaim in general, mainly due to the distorted mixing on a few of the tracks. However, Cherry Bomb was an unbelievable album to me. The follow up to his 2013 album WOLF, Cherry Bomb show many signs of musical progression.
The production on this album, all done by Tyler himself, sounds much more like he used actual instruments to produce the album as opposed to the sounds used on his previous albums. Tyler worked with famous music composer Han Zimmer, who has written original music for many popular films, to write multiple string sections heard throughout the album.
Cherry Bomb features a large amount of artists. However, my favorite features came from Lil' Wayne and Kanye West on "Smuckers," Pharrell on "Keep Da O's," and Roy Ayers on "Find Your Wings." In my opinion, the best song in all of 2015 came on the outro of this album, "Okaga, CA". Overall, I think "Cherry Bomb" was a very underrated album that definitely deserves more attention.
Favorite song: "Okaga, CA"
3. In Colour – Jamie XX (May 29th)
"In Colour" is the second solo venture from Jamie XX, who is a member of the electronic band The XX. To be honest, the thing that attracted me to listen to this album at first was the album cover, my favorite cover of the year. But after listening to the first song, I was hooked. This record is concise and to the point, but it delivers listeners with a consistent sound throughout the album that keeps the attention of the listener.
Two of my favorite songs of the year come from this album. One of the two being the intro, "Gosh," and the other being the feel-good record "I Know There's Gonna Be (Good Times)" which features popular rapper Young Thug. I was very surprised that this album resonated so well with me. I found myself returning to the recording all throughout the summer of 2015.
Favorite song: "Gosh"
4. Currents – Tame Impala (July 17th)
Currents is the third studio album from indie rock band Tame Impala. This highly-anticipated record broke a three-year album drought from the band, and it did not disappoint. "Let It Happen," the nearly eight-minute intro track on the album, really set the tone for the rest of the 13-song LP.
Tracks like "Nangs," "Yes I'm Changing," "The Less I Know The Better," and "'Cause I'm A Man" are some of the other tracks that stand out to me on this record. Not only did the album sound great, the artwork for the album and its singles only added to the mood and feelings portrayed by the album. To go along with its visually pleasing aesthetic, Tame Impala released multiple music videos that only left the audience wanting more.
Favorite song: "The Less I Know the Better"
5. Rodeo – Travis Scott (September 4th)
Rodeo was the first studio album to be released from rapper Travis Scott. Scott released his second mixtape titled "Days Before Rodeo" towards the end of 2014 which ended up being a big factor in the hype behind Rodeo.
The 14-track LP made an even bigger name for Scott. This project is very consistent in containing a dark sound with intriguing production full of energy. One of the biggest upsides to this album are the featured performers. Scott managed to get big names such as Kanye West, Justin Bieber, Future, The Weeknd, and more on his record.
As well as big featured performers, Travis also has some of the hottest producers on the album including Mike Dean, Metro Boomin, Southside, and one of my personal favorite artists Pharrell Williams. I really enjoied this record, mainly because Travis managed to craft a very well-rounded project that portrays that gives the listener a feeling that keeps them entertained.
Favorite song: "90210 (feat. Kacy Hill)"      
6. Yesterday's Tomorrow – Phony Ppl (January 13th)
"Yesterday's Tomorrow" by Phony Ppl flew extremely under the radar in 2015. The band, composed of nine members has released three projects, with "Yesterday's Tomorrow" being their first studio album. This album was easily the most overlooked project of the year amongst all genres. The 15-track LP got cosigns from rapper Tyler The Creator and R&B band The Internet.
The sound that Phony Ppl created with this album is difficult to classify the exact genre that it falls under. There are rap verses, but there is also lots of singing over detailed and layered instrumentals composed of many instruments. The collective recently released the first video from a song off the album called "Why iii Love the Moon," and it is entertaining to say the least.
One of my favorite things about this album is that the cover art, videos, and the music all tie together to convey a central theme across the project as a whole. I am highly anticipating more music from Phony Ppl.
Favorite song: "Somehow"

7. If You're Reading This It's Too Late – Drake (February 13rd)
"If You're Reading This It's Too Late." An album (or arguably a "mixtape") by Drake that was released on the iTunes store in February without any prior promotion or notice. Despite the lack of promotion, Drake managed to sell 495,000 digital copies in only three days. Beside the fact that the album cover became one of the biggest memes of the year, some of the songs on this record could not be escaped, they were everywhere.
The intro track, "Legend", starts the album off with a bang. Legend is followed by a streak of four songs that making waves throughout radio stations everywhere. Despite the numerous uptempo tracks, it wouldn't be a Drake album without the handful of emotional tracks that hit home, some of my favorites being "Jungle," "Company," and "Preach." Look for Drake to release his very highly anticipated album "Views From the Six" in April.    
Favorite song: "Jungle"
8. Purpose – Justin Bieber (November 13th)
After a long period of time full of controversy and tabloid stories, Justin Bieber fell into a quiet period without releasing any music. However, he returned to the spotlight when Diplo and Skrillex released "Where Are U Now (feat. Justin Bieber)" on their album in February of 2015, which ended up being a song on purpose.
After releasing singles "What Do You Mean?," "Sorry," and "Love Yourself," the hype for this album began to snowball. Slowly but surely, Bieber began to gain the respect from many people that didn't respect him in the past. He did this by releasing a great pop record with stellar production and vocals. Not only did he continue to please his day one fans, he also decided to reach a new audience by collaborating with artists like Big Sean, Travis Scott, and even rap legend Nas.
Bieber, who once was one of the most hated artists outside of teenage girls, has proved himself after this releasing this album.  
Favorite song: "Company"
9. Sremmlife – Rae Sremmurd (January 6th)
Opening the year with a bang, rap duo Rae Sremmurd released debut first full length LP in January of 2015. Swae Lee and Slim Jimmy made a name for themselves in 2014 after releasing hit singles "No Flex Zone" and "No Type."
After the album released, the duo only continued to rise in popularity after singles like "This Could Be Us," "Come Get Her," and "Up Like Trump" shot up the charts. If you are looking for a record with insightful and deep lyrics, this is not the album for you. However, the reason this album made my top 10 list is because it is a blast to listen to, front to back. With the majority of the production coming from the duo's "mentor" and hit maker, Mike Will Made It, Rae Sremmurd raps and sings over beats that are entertaining to say the least. The follow-up, "Sremmlife 2," is slated to release in the first quarter of 2016.
Favorite song: "No Type"
10. Summertime 06 – Vince Staples (June 30th)
Coming in as my 10th favorite album of 2015 is Vince Staples record "Summertime '06." Vince is, in my opinion, one the of the best technical rappers in the game right now, and this album is great evidence of that. Summertime '06 is a two disc LP with 20 tracks, which is very lengthy. However, Vince delivered a very cohesive project.
The overall vibe of the album is very consistent. The production is dark and very hard hitting throughout the project. One of my favorite parts about Vince's album rollout was that he put out multiple music videos that were very entertaining. I am very excited to hear more from Vince in the future.
Favorite song: "Senorita (feat. Future)"