Seussical celebrates 10 years of theatre
Hang on for a minute...we're trying to find some more stories you might like.
The actors take the stage in full makeup and costumes, the backdrops and props are set up, the spotlights are in position, yet this is not the opening night. This is the dress rehearsal where the only audience members are directors Jessica Brewster and John Davenport, the technical crew, a couple of parents, and the thought of opening night lingering in the back of everyone's mind.
The theatre program will be performing Seussical The Musical on Jan. 21-23 at 7 p.m. All performances will take place in the auditorium. Tickets are now on sale in the school store and online, but are expected to sell out quickly.
"Seussical The Musical is a celebration of Dr. Seuss's works," theatre director Jessica Brewster said. "There's lots of different books that are combined, and Horton the Elephant is kind of the main vehicle that takes you through. It's a celebration of different music styles."
The family friendly musical is also a celebration of the theatre program's tenth anniversary.
"Seussical The Musical was the very first musical that we did at Lovejoy High School, so it's a big, giant honor to bring it back," Brewster said.
The revival of the musical has given the theatre program a chance to utilize the resources the program didn't have ten years ago.
"We've had 10 years of experience to see how much we've grown as a program," Brewster said. "It's also exciting because we have a lot of our alumni that are assisting us as volunteers for choreographers and photography and set painting and things like that."
One of assisting alumnus, Kendall Westbrook, has temporarily rejoined the theatre program yet not in the role of a Bird Girl, the part she played in eighth grade.
"This year I choreographed six songs for the show, particularly focusing on mentoring the Bird Girls," alumni Kendall Westbrook said. "This was very special to me because I wanted to be involved with the part that I played so many years ago. I also attended rehearsals to help wherever needed and helped with costumes and build days."
Westbrook notices distinct differences and similarities between her performance ten years ago and this year's performance.
"When we did Seussical the first time, we only had one year of older students available to work with us," Westbrook said. "It was a very simple show. After ten years, it's exciting to see students still excited to come to rehearsal, teachers giving everything they have to the show's success, administrators supporting these programs, and parents and volunteers helping to make it all happen."
When Seussical The Musical was first performed, Brewster was both the acting and technical director. While in production for this year's performance,  Brewster noticed many differences between the first "bare bones" performance and this year's performance.
"We have more experience," Brewster said. "Also, that was a theatre for young audiences version, and this is the full version now that we have a full 9-12 program. We have microphones now, and we actually have supplies."
Despite the differences, Brewster and others are bringing back some of the props and costumes from the original performance.
"There are still some throwbacks to the original show," Brewster said. "The Bird Girl costumes are the same. The Whos are still in the yellow color palette. We've kept some of the integrity of the original show, but we've just improved on it."
Cast and crew members have come to like the bonding experience this production has given them.
"I really liked working with other Bird Girls," Bird Girl and senior Elizabeth Jowers said. "Being a Bird Girl, I did most of my rehearsal with other people and so it was a lot of fun. We really bonded. We call ourselves 'The Bird Flock.'"
In addition, people involved with the show are excited for the audience to finally see the all the special elements the show has to offer.
"I'm just really excited for [the audience] to see the set and just how energetic the show is as a whole," actress and senior Caroline Vitanza said.
Even though the musical is a celebration of the high school's tenth year of existence, this show has a deeper meaning, even the cast and crew who weren't involved with the first show ten years ago.
"Playing a lead my senior year is really special to me," Vitanza said. "I've kind of grown as an person and as an actor by playing [Gertrude McFuzz], and she's become pretty important to me so it's a pretty unique and special experience. I'm kind of going out with a bang."

About the Writer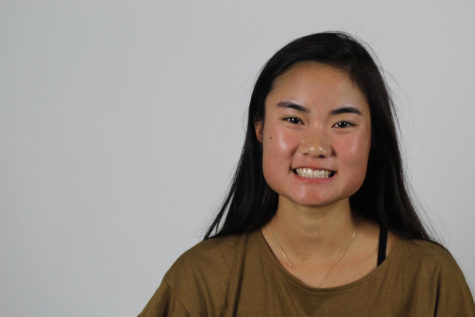 Sydney Wong, Staff Writer
Sydney Wong is a senior in her second year as a staff writer after taking a brief hiatus from newspaper between her freshman year and now. When Sydney...