Administration seeks new cheer coach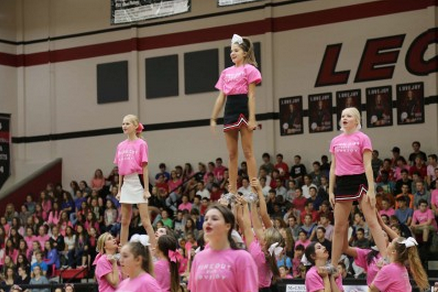 Administration has begun its search for a head cheer coach as the cheer program was informed last Monday that head coach Jennifer Leary will be stepping down from her cheer position by the end of this semester, though her academic duties will be unaffected.
As the application process continues, JV cheer sponsor Ashley Loyd and ninth grade cheer sponsor Tricia Brown will head the program in the interim along with the help of fine arts director Fela Lowrance. These changes come as UIL begins its pilot year into competitive cheer with the first state tournament for the sport scheduled in January.
"As we begin to get a framework for what competitive cheer is going to look like from UIL, we want to be looking for someone who has strong cheer experience and can grow a program in the direction of the state tournament," Principal Chris Mayfield said. "The timing piece was that it was the right time, not just for us, but also it being the right time for Coach Leary."
While Mayfield said it is unlikely that administration will find a coach before next month's state tournament, he said he hopes to fill the position before the cheer tryouts for the 2016-2017 school year in March.
"We will post the cheer position immediately and fill it with the best candidate at the earliest opportunity," Mayfield said in an email to cheer parents on Dec. 8. "This means that our new cheer coach could be in place prior to the end of the school year or early summer. The position will not be tied to a specific teaching field to ensure we keep the pool of candidates open to those most qualified in cheer."
The job listing can be found on the district website.