Young talent and early college recruits
Freshman Mattie Boyd is getting a head start on her college athletic life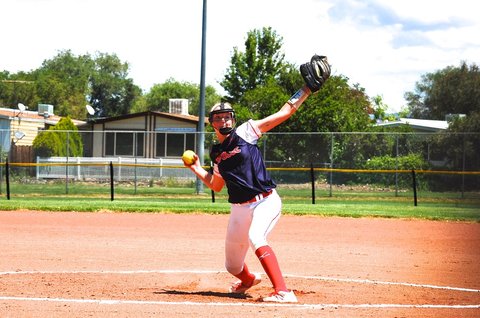 Many students athletes desire to pursue collegiate athletic programs after graduating, and freshman Mattie Boyd is no exception. Boyd has been gaining recognition from D-1 college programs for her work in both volleyball and softball.
Though she has been playing softball since she can remember, Boyd started pitching at age 8 and playing volleyball at age 10. Boyd first attended college showcases with her softball team, Mizuno Impulse, around eighth grade, thus beginning her experience with college recruiting.
The University of Missouri was the first college to show interest in Boyd for both softball and volleyball. Since then, she has communicated with a large variety of schools including Florida, Alabama, Oklahoma, Oregon, Iowa State, Florida State, Iowa, Connecticut, Duke, Ole Miss, Georgia, and Texas Tech. Boyd has visited FSU, OU, Oregon, and Texas Tech with plans to visit Missouri and Iowa in December.
Boyd says that having so many universities interested in her is exciting, but that it can also be stressful.
"It gets hard to juggle school, softball, volleyball, family, and a social life all at the same time," Boyd said. "I am very often out of town and so I miss a lot of school and it gets easy to become behind on my schoolwork. I would say the hardest part about it is keeping coaches
up to date and finding the time to call coaches and respond to emails."
Boyd has found pros and cons in the recruiting process. Boyd said the next three years are daunting to her as they are filled with uncertainty such as possible injuries or coaching changes that could negatively impact recruiting.
Boyd said her parents have been very supportive of her in both sports.
"They have put a lot of time and money into my sports," Boyd said. "At times there can be lots of pressure from that, but I know that they would support me in my decision as to where I would want to play and if at a collegiate level."
School softball and volleyball coaches have also been a source of support for Boyd.
"Mattie is a tremendous student athlete with a great deal of potential," head softball coach Jeff Roberts said. "I have no doubt that Mattie will have a great season this spring for the Leopard Softball team."      
Volleyball coach Jason Nicholson said the attention Boyd is already receiving from colleges as a freshman softball player is impressive.
"For a kid like her she could probably pick whatever sport she likes and be successful in either one," Nicholson said. "There's that opportunity for her to be a multi-sport athlete which is a difficult schedule to handle, but Mattie has done a great job of that over her career."
Concerning playing both softball and volleyball in college, Boyd said, though she wishes she could, it is "probably not" going to happen.
"It is already so hard to manage them both now that I could not imagine having to do it at such a high level and manage school," Boyd said. "It's hard to say which is my favorite though, as I like whichever sport I'm playing currently the best when I'm playing it. But I lean to softball most of the time."
Boyd's first season of high school volleyball with junior varsity is in the books, with the team finishing undefeated in district (14-0) and only three losses on the season overall (26-3). With high school volleyball over, Boyd now sets her focus on out-of-school softball as well as keeping up with her college recruitment process.