Volleyball conquers Frisco, looks to take on Mansfield Summit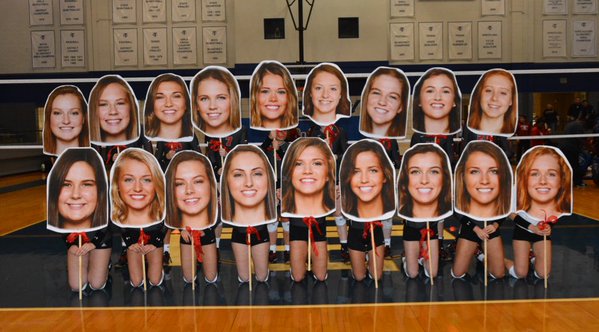 Post-season volleyball is in full swing, but this is not new for the Lady Leopard volleyball team. The Leopards defeated the Frisco Raccoons in four sets Tuesday night at the Curtis Culwell Center. However, things were not going well for the Leopards in the first set.
"I told them basically we had to wake up and get ready to go," head volleyball Jason Nicholson said. "I think we've kind of had an issue all season in some of our bigger matches when we get amped up we come out and kind of make a lot of mistakes or errors because we may have too much energy or we get a little nervous."
The Raccoons ended up taking the first set by a score of 25-19 with a significant amount of Frisco's points coming from errors made by the Leopards.
"After 10 points I had already called two time outs in the first set, because we had already made seven errors," Nicholson said. "Seven of their 10 points were us hitting the ball out of bounds, or getting aced. So those are some areas where we were just hurting ourselves on our side of the net, and that's something you can't do."
The outside hitting and topspin serving of Frisco were two things that the Leopards struggled to overcome in the first set.
"The topspin serve definitely was hurting us a little bit," Nicholson said. "It caught us off guard, but we knew that was coming. Both those kids are probably two of the best top spin servers in the region, but that's a serve that you should be able to handle, and we didn't do a very good job of that in the first set."
However, after a talk from Nicholson after losing the first set, the Leopards came out and won three straight sets with scores of 25-18, 25-17, and 25-23.
"I think it kind of got our minds focused on where we are at, and what is really going on," Nicholson said. "The first two rounds you get a couple easy ones per se, and it doesn't really seem like playoffs. When you get a match like last night with the intensity level we had, and the crowd, and the facilities we were playing in, I think it kind of gets your mind right heading into regionals."
The regional semifinal match will be played Friday, Nov. 7at 7 p.m. at Berkner High School against Mansfield Summit. The competition that Summit will bring is similar to the competition Frisco brought.
"They've got two outside hitters similar to who we played last night [against Frisco]," Nicholson said. "One might be the kill leader in the Dallas Morning News. She is an extremely athletic kid that we are going to have to figure out how to stop. I don't know if they are going to have the experience that we have, but they are going to have a lot of athletes."