Big heads, big spirit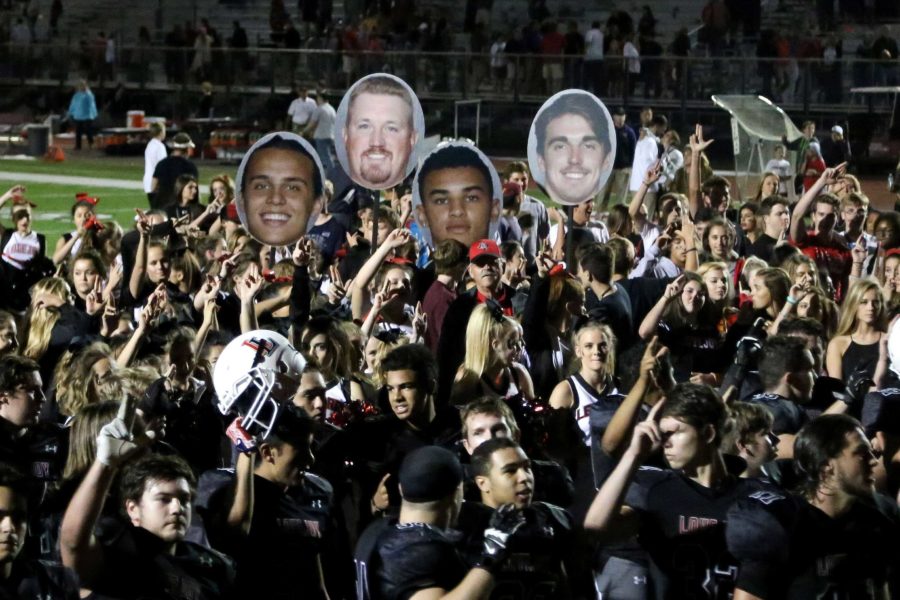 Friday Night Lights bring many things for football players: pressure to perform well, the sight of cheering fans, their friends, and lastly, their own oversized faces staring back at them from the stands.
"We got the idea because we were watching college gameday one weekend and we saw the signs and fat heads in the background and they looked cool," senior Grady Wells said. "So then we had the idea to do it with Lovejoy players. Me, Johnny, and Jacob came up with the idea."
There were four fatheads made: Coach Ryan Cox, and seniors Aaron Fuller, Kevin Davis, and Bowman Sells.
"The fatheads are fun to see before the game," senior Kevin Davis said. "It gets me excited. During the game I forget about it but then after the game, especially after a win, it is fun. The first time I saw it up in the stands I started laughing. I think it was before the Sherman game and I was on the sidelines, I looked up and then I started laughing, mainly because Coach Cox's face was really funny."
Some people were uncertain if the idea would actually happen.
"I thought it was pretty cool because it shows that the fans were supporting me," senior Aaron Fuller said. "A few people told me it was going to happen, but I wasn't sure if it was going to go through or not."
The experience of seeing someone's face blown up is new to the players.
"I think they are a cool way for a unique form of spirit to show that we got something that is unique to our stands," head football coach Ryan Cox said. "I wish they wouldn't have used mine. But since they did use mine I wish they would have made it a little more elongated. My face already looks fat without having it on a fathead poster board cut out. Some of the coaches give me a hard time because they say it is life-size already."
The process of making the fatheads was more difficult than originally thought.
"I originally went to Fedex but they were way too expensive to make," Wells said. "So Jacob's mom knew someone who could make them for cheaper. We raised money at the end of the Lake Dallas game. We got over $150 in less than 30 minutes. Then the next game was Homecoming and then we finally found the place to make the signs at a lower cost and we had them made by the Sherman game."
There was a process of picking the players for the fatheads.
"A lot of people really wanted to do Coach Cox and since we used everyone else's money, we tried to pick the three most recognizable seniors," Wells said.  "We wanted to choose three players most people knew and supported."
The signs give a feeling to the players that is hard to explain.
"I wouldn't say it gives me encouragement," Davis said. "It is really hard to describe the feeling of seeing your own face really big in the stands."
Fatheads also provide an interactive side to the spirit.
"My mom loved it and I think my wife kissed it," Cox said. "So it is all good. I didn't see it at first. I didn't see it until the end of the game. But when I saw it I thought 'God, my face is fat. I need to do something about that.'"
About the Writer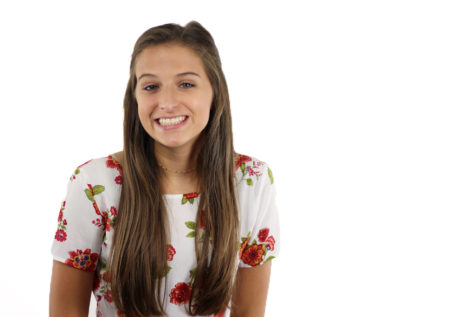 Mary Catherine Wells, TRL Editor-in-Chief
Mary Catherine Wells, a now senior at Lovejoy High School, proudly takes on the role of Editor-in-Chief at her online school newspaper, The Red Ledger....