The spirit behind the suit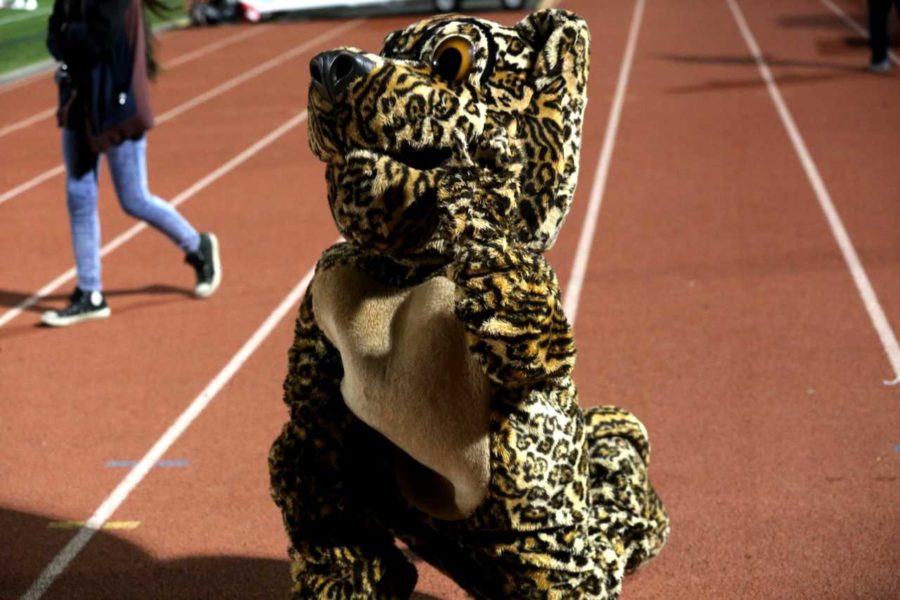 It is a normal Friday night at the school stadium. Cheerleaders line the track cheering on the football boys. Next to them, a leopard. Not just any leopard, the mascot. Senior, Mackenzie Patrick, has had this title for three years at the high school.
"I have been the mascot since tenth grade," Patrick said. "I decided to become the mascot because I was the mascot during 8th grade and I really loved it."
There are many moving parts to being the mascot.
"My favorite part of being the mascot is going to the football games, watching the football players, and the little kids running after me and grabbing my tail," Patrick said. "It is just not fun for people to tackle me. I like to go to the games to see everybody get up on their feet, clap, and be happy."
Coach Leary has been with Patrick all three years she has been mascot.
"Mackenzie is super enthusiastic about being the mascot," varsity cheer adviser Jennifer Leary said. "Every year she is nervous about whether or not there is going to be someone to try out with her or not."
Being part of the cheer team, Patrick attends all practices.
"I love practicing with the cheerleaders," Patrick said. "I like to walk in and see all of the cheerleaders come after me. I love Coach Leary. I like her spirit and how happy she is. Cheerleading is fun sometimes and sometimes it is hard work. Like when you go to the game and you have to stand there for 45 minutes and then it gets to 3 minutes and you have to rush to get into your mascot suit."
Patrick has become more responsible with her role as mascot according to Leary.
"At games I used to have to remind her that it was getting close to time where she had to put the suit on," Leary said. "But now she is getting to the point where she looks at the clock and says 'Okay I need to go change.' She is getting to the point where she really loves it. Two years ago at camp she won the jump contest for the mascots. It really just raised her confidence. I have pretty much been her coach her whole time as mascot. Her sophomore year there was a varsity coach but I went to all the games to make sure that someone was walking around with her at all times. But now I just can tell her what to do and where to go and she will do it. She is awesome and I am going to miss her next year."
The mascot suit can get hot inside according to Patrick.
"Also it feels like an oven in the suit," Patrick said. "It feels like 300,000 degrees. So the first thing you need to do is bring a lot of water and drink and drink and get hydrated before you get in the suit. That's what I do all day friday."
Patrick tells about what it takes to be mascot.
"You have to have spirit, and work your best," Patrick said. "If you don't work your best then your coach might get mad at you. I am a senior this year and I have to leave a legacy. I hope they learn to be their best and do their best that they don't get on their coaches mean side. I know how that feels a lot. The hardest thing i have done is going to Hart in my suit and watch all the little kids tackle me and I have to walk with them on my legs. I have fallen during a home game pep rally. I didn't know there was a chord and I tripped over it and fell on my face. At least the suit was padded."
When Patrick is not attending to her other duties, she sometimes joins in with the cheerleaders.
"I get to do cheers sometimes," Patrick said. "But it gets kinda confusing in the mascot suit because the head is too big and it gets confusing. I have to see out of the nose to see what is going on. It is sometimes hard to walk in the suit but sometimes it isn't. Like when I walk through student section the older kids like to grab and yank my tail. It is too hard to walk when people are pulling on you and trying to take your head off. It is hard work."
Team mates of Patrick have gotten to know her very well throughout the years they have cheered with her.
"Mackenzie is a very great friend of ours," senior and captain of varsity cheer Hannah Warrick said. "We love her. She is always is committed to doing everything and being spirited. We really appreciate her."
Through cheerleading, Patrick has made some great relationships.
"I love my cheerleading family and I couldn't ask for a better family," Patrick said. "I love all the varsity girls, freshman, sophomores, and juniors. I have been with my team ever since 10th grade. They are like my family. I used to do Pro Spirit and then they weren't my family anymore. So then I came here to be the mascot instead and that's a good family. Go leopards."
About the Writer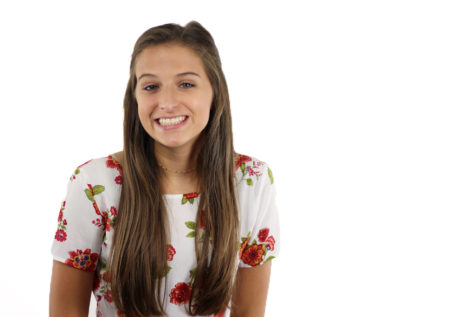 Mary Catherine Wells, TRL Editor-in-Chief
Mary Catherine Wells, a now senior at Lovejoy High School, proudly takes on the role of Editor-in-Chief at her online school newspaper, The Red Ledger....