Leopards part of football pizza competition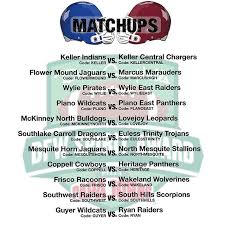 The Leopards football game tonight against the McKinney North Bulldogs has been selected for the Dave Campbell's Texas Football DFW Spirit Award competition, sponsored by Papa John's. Tonight's game is one of 22 that has been chosen.
This competition is a season-long competition, so whoever places the most pizza orders using the discount code "ALL SEASON LONG" and their team's promo code at Papa John's will be crowned with the Dave Campbell's DFW Spirit Award. Papa John's will donate $1 per offer redemption to each high school at the end of the season. The school with the most pizza purchases in all of DFW will receive an additional $250.
The school's promo code is "LOVEJOY."
"Obviously with McKinney North vs. Lovejoy this week, we really want to ramp up the competition to get students, fans and parents excited and ready to participate throughout the rest of the season," said Robel Melesse, Dave Campbell's director of sales.
To compete for the DFW Spirit Award, enter the school's promo code at https://www.papajohns.com, then apply and customize the order. Even though the game is tonight, the competition between the schools continues for the rest of football season.