Extreme home makeover: senior project edition
Senior Drew Hawley takes on family home renovation project
"Open to the challenges of learning" and "Work for justice in the community" are precepts two and six of the Graduate Profile, and senior Drew Hawley is exhibiting these traits by taking on a particularly daunting and challenging task.
For his senior project, a requirement for all Lovejoy graduates, Drew is giving a well-deserved renovation to his grandmother Anita Hawley's house. He found most of the motivation to take on this project, which began in June and will hopefully be finished within the next month, through the importance of the house to his grandmother.
"[My grandma's] house is really, really old," Drew  said. "It's the house my dad grew up in. She's coming down in her last few years, so we just wanted to make sure they were the best that they could be. She didn't want to leave so that's important to me."
Inside of the house, Drew is making a lot of major changes most people would hire professional companies to complete.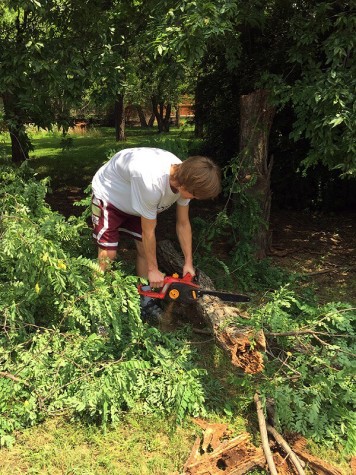 "We completely took out the electricals," Drew said. "All the plumbing in the house has been replaced. Floorings been redone."
Particularly, Drew's grandmother's outdated kitchen is in the process of experiencing a major makeover.
"In the kitchen we completely pulled out all the cabinets and sink and pulled off the linoleum flooring," Drew said. "We've replaced all the piping under the floor there and then redone the floor with plywood. That's all we've done so far, but we're going to put in all the new cabinets…we have a super-nice sink that was given to us that we're going to put in there."
While the idea of the project originated from Drew, he has collected the help of his dad, his aunt, Tracy Henderson, and his uncle, an experienced electrician, all of whom are providing free labor. This means Drew is not having to hire and waste money on professionals.
"We've only been paying for materials as opposed to materials and labor," Drew said.
Along with the extra pairs of hands, Drew is also receiving the necessary financials for the project. Drew started a gofundme page in order to ensure every renovation is completely finished. Through the popular fundraising site, anyone can assist Drew by donating money. Frequent updates about the progress on his grandmother's house are also shown on the webpage.
Drew even has the support of his friends at Lovejoy who are all excited to see the final outcome when the project is finished.
"I think that it's a great idea that he's helping out his grandmother," fellow senior Andrew Keefer said. "It's a great project."
When the last renovation on the house is completed, Drew said he knows his work and dedication to this grueling project will pay off and affect his grandmother in a positive way.
"She's hurt herself on the property a few times already," Drew said. "There's spots where the floor is uneven. Things like that and…making sure all the electricals aren't going to start a fire…it'll just help her live safer and longer."
Anita Hawley said she knows how much effort her grandson has put into her house and is very appreciative of all his accomplishments.
"I'm very proud of him," Anita said. "He has many accomplishments, but mostly I'm proud of his generosity of heart and time and labor. He is certainly [a teenager] that shines."
About the Contributor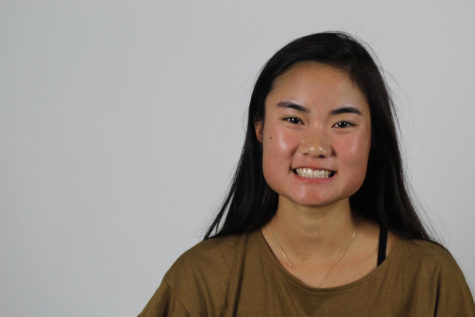 Sydney Wong, Staff Writer
Sydney Wong is a senior in her second year as a staff writer after taking a brief hiatus from newspaper between her freshman year and now. When Sydney...