Red Ledger alumni awarded for undergraduate research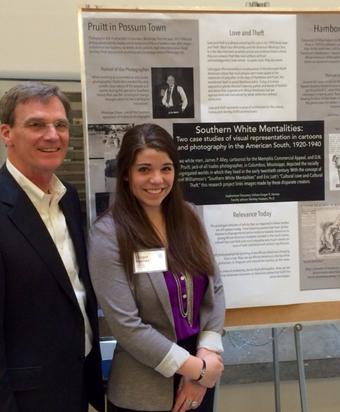 A high school background as Editor-in-chief of theredledger.net as well as her journalism education at the University of Missouri has helped 2013 graduate Ginger Hervey earn Mizzou's Chancellor's Award for Excellence in Undergraduate Research
"I decided to pursue journalism my senior year," Hervey said. "After working for The Red Ledger for so long, I realized that I really enjoy writing and talking to people, and trying to tell their stories in a way that makes change. Journalism, to me, is a way to understand the world and to help people understand each other. I definitely learned that in high school, because if I hadn't taken diverse classes I never would have found out what I am really passionate about and what I'm not as interested in."
Hervey's award came from research that took a look at race relations.
"The Honors College at the University of Missouri has a Fellowship that pairs college students with professors to do research," Hervey said. "I work with Dr. Berkley Hudson on research about race relationships in the South. I presented that research at a Forum of about 300 presenters, and one project from each of the six categories (mine was humanities) won. Working with Dr. Hudson has gotten me interested in race relations. He grew up in Columbus Mississippi, a segregated town, during the civil rights storm and his research tries to make sense of the way different races interact."
Hervey's topic of research is one of the most talked about issues today.
"Studying history like this is really interesting to me because the conflicts that have always been there haven't disappeared," Hervey said. "This country is still feeling the effects of slavery and segregation, and it's becoming more and more obvious with events like Ferguson and Baltimore that we have a long way to go. Studying race relations makes me think about that and makes me want to change it."
Hervey's award for excellence is representative of her hard work and education.
"I think the fact that she won the award represents the caliber of the journalism programs at Mizzou, but it also shows how preparation here has benefitted her," senior Michelle Stoddart said. "The Red Ledger teaches students the basics of journalism which can lead to research on a collegiate level. Ginger is more than qualified for the award, she is so hard working and her background in journalism here has helped her achieve this award."
From a young age it was apparent that she would pursue a career that involved writing.
"I knew Ginger was interested in reading and writing at an early age," Lou Hervey said. "In first grade she would sit in front of our computer after school and write stories. She joined the SCMS paper in 7th and 8th grade. But it was in her sophomore and junior years working at the Red Ledger with Brian Higgins that I think she really started considering journalism as a possible career."
As a college student Hervey still applies what she learned in high school.
"I definitely apply my journalism skills every day, but even more than that I apply the study skills and work ethic I learned in high school," Hervey said. "Not every class will apply to your career in the future, but you can still take some lesson or skill away from it."
"That's one of the things I try to tell students on a regular basis," journalism teacher Brian Higgins said. "The odds of using physics, APUSH or journalism in your career may be pretty low for many students, but there is something you can take from every class. Whether it's training your brain how to think in certain situations or learning how to communicate effectively, virtually every class on campus provides a skill for those willing to work at it."
While many students believe that what they do in high school has nothing to do with their future career, Hervey sees great value in the classes offered on campus.
"I didn't realize in high school, and especially in Lovejoy, how lucky I was to have all those classes offered to me," Hervey said. "In college, you can take lots of diverse classes, but you have to pay a lot of money for them. Lovejoy has a great course catalogue. My advice to students would be to try everything, especially if you don't know what you want to do. Take the classes you know nothing about. Take European History, and choir, and engineering and Music Theory and journalism, just to see if you like them. You may not, but you also may discover an interest you never would have known about."
Hervey will take the next step in her journalism career this summer.
"I'm actually interning at the daily newspaper in Columbus, Mississippi (The Commercial Dispatch) this summer," Hervey said. "I'll be a full-time, general assignment reporter there, but one of the reasons I really want to work there is to see the town I've been researching. So that's another way my research has influenced my future."
About the Writer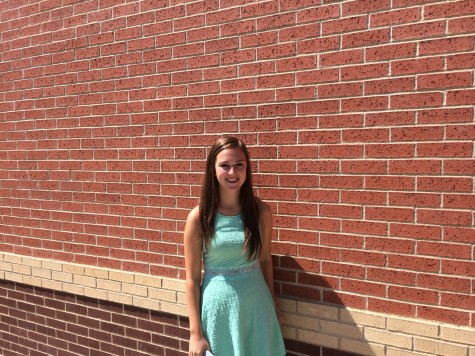 Katie Brucher, Staff Reporter
Katie Brucher is a senior this year. There is nothing in the world that she hates as much as cheese. She loves pizza; however, she likes her pizza without...