New fishing team reels in state title
In the first year of its existence, the school fishing team has already brought a state title back to the school. Consisting of freshmen Kellen Worley, Ethan Legare, Daniel Helsley, Trent Martelloni, and Trey Johnson, as well as sophomore Hank Harrison, the team took to Lake Tyler on Saturday and Sunday and finished first among 169 teams.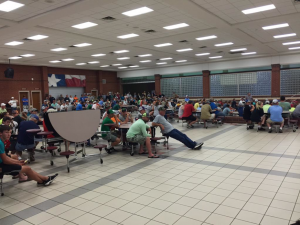 "We weren't sure what to expect," Johnson said. "Being a first year team we've never experienced a state tournament before. I personally caught a largemouth bass that weighed in at 4.82 pounds. Me and Kellen Worley combined to catch a total weight of 11.54 pounds."
In a tournament featuring nearly 200 other competitors, the team caught a victory by reeling over 50 total pounds over the two-day stretch.
"Our whole team combined to catch 52.91 pounds over the weekend," Martelloni said. "Me and Daniel Helsley had 13.47 combined pounds in the first day and 21.47 pounds as our two day total. Chris and Ethan's first day total was 8.57 pounds and they finished strong with 19.97 pounds as their total."
The experience was a memorable one for a team member who has been fishing for years.
"Fishing has been a big part of my life for several years," Johnson said. "It was cool for the school to recognize the need for a team and follow through too. Our whole team is pretty passionate about it so getting the chance to compete at state is something very special. With our ability, we expect to be right back next year with hopefully even better results."
The head coach is happy for this first year team and recognizes the difficulties that may come with the sport.
"I'm extremely proud of this group of guys," head coach Mike Eaton said. "They've exceeded my own expectations and they want to continue their success. This sport requires a lot of patience and skill that some may not recognize. I'm excited to see what we can continue to accomplish."