Softball's marathon march to Regional Quarterfinals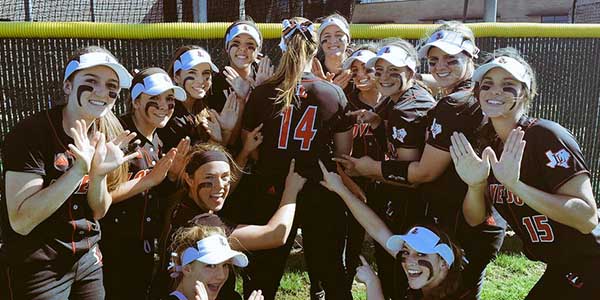 With the Leopard softball team advancing to the Regional Quarterfinal against Frisco High School starting Wednesday night at McKinney Boyd, The Red Ledger takes a look back at softball's come from behind series win against Royse City.
It was a weekend filled with adversity, including rain puddles and near sleepless nights, as the Leopard softball team ultimately overcame the obstacles and beat the Royse City Bulldogs 2-1 in the three game series.
"The games were originally scheduled to be played on Thursday and Friday, with game one on Thursday, and games two and three on Friday," head softball coach Jeff Roberts said. "Game one was not played on Thursday, and so the series was changed."
Rain delays pushed the first game of the series back to Friday night. After the Leopards lost game one 11-7, the teams agreed to play game two following a 30 minute break just before midnight.
"The team was so excited because after losing that first game, we were completely ready to prove what kind of team we were and show them that they got lucky the game before," junior Jaclyn Willis said. "Despite the fact that it was late, we had so much energy and were so fired up."
The Leopards were able to win game two 6-5 but it didn't finish until after 3 a.m. with the team not arriving back on campus until 4:30 a.m. Having to be back at school to leave for game 3 at 10:00 a.m. the girls had as little as four hours of sleep with parents and coaches doing everything they could to make the lack of rest as easy as possible on the girls.
"We had multiple players and parents help bring the team waters, gatorades, smoothies, fruit, etcetera," Roberts said. "We attempted to help them rest as much as possible, and even allowed them to ride home with their parents after the game ended at 3:16 a.m. in order to get as much sleep as possible."
Even though the team got off to a slow start in game three, the players didn't blame the lack of sleep on the late finish.
"We always have an inning where we rally, so I don't necessarily think it was the lack of sleep that caused the slow start," sophomore Jojo McRae said. "We were just waiting for our inning to come, and once one person steps up hitting becomes contagious."
Just one inning into game three of the series, the Leopards found themselves in a hole trailing 5-1. However, an 18 run inning in the 4th eventually led to a run rule in the 5th inning with the Leopards winning 20-5.
"We got the leadoff on, then Kylee Ramos beat out a close fielder's choice at second base, and then the floodgates opened," Roberts said. "Taylor LeGrange hit a three run bomb to left field, and JoJo McRae hit an in-the-park grand slam. Besides those 7 runs, 11 other runners scored in the same inning."
A key moment of the 18 run inning was an inside-the-park grand slam hit by McRae.
"My hit contributed, and it was definitely exciting," McRae said. "But, it took everyone, and the whole lineup contributed to the 18 inning run, so that itself affected the whole attitude of the team, and created an energy we were able to keep throughout the rest of the game."