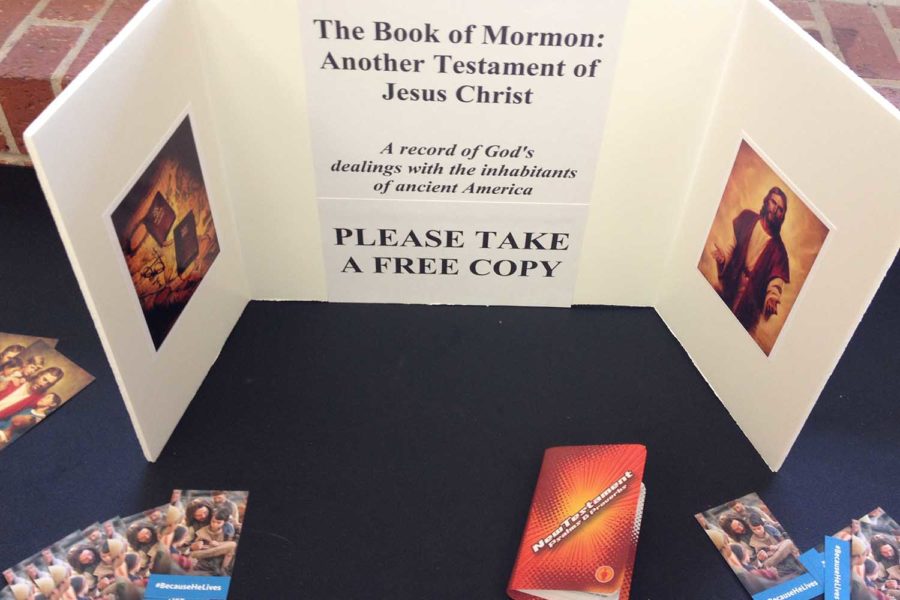 Religion and school
What is and isn't allowed when it comes to religion on a public school campus
May 12, 2015
Religion in schools has been a touchy subject of controversy for several years in many public schools. Some people believe that religion should not be brought into schools, even going as far as to think the pledge should not include the words "under God," while others do not mind and actually encourage it. Religious texts including Gideon Bibles and the Book of Mormon have been in the commons recently, provoking sparking some debate on campus.
"
Everyone has a religious choice and religious freedom"
— KelsieAnn Trank
"I think it's awesome. It's a great way to stand up for what [students] believe in, even if others don't approve," freshman KelsieAnn Trank said. "I think it's appropriate since it isn't being forced on anyone, and everyone has a religious choice and religious freedom. It's a great idea to spread religion in a non-forceful, inviting way."
The Bibles, free for students take, were manned by no one nor forced upon students, and they were provided by a man who approached the school. Even so, some students had negative or conflicting emotions.
"Schools should be kept entirely secular as a public establishment. It's very iffy the way they did it. They put it in the commons during a free time, it was not distributed during instructional periods," freshman Jerad King said. "Just from what it is, I don't think it's right. It really wasn't doing much harm. It's just the very idea of distributing a religious text during school time it's not truly distributing it's having it available. I'm not saying that it's a definitive wrong thing to do, but it certainly raises some questions."
The school allows religious texts to be placed out for students to take, though the school is not allowed to encourage a religion. It is the choice of the students to take a Bible, and the school stays neutral in religious conflicts.
"Schools are public institutions and so therefore we cannot promote a religion, and, on the other hand, we can't deny religious opportunity, and so really we don't have a position from the standpoint of support or not support," Principal Chris Mayfield said. "We're neither one."

Loading ...
After seeing the Bibles on the tables, senior Noelle Brooks was inspired to request that the Book of Mormon be put out for students once the New Testament Gideon Bibles are picked up.
"When I saw the Gideon Bibles on the table in the commons, I was so happy to know that people are trying to spread God's word," Brooks said. "I wanted to be able to share what I knew to be true along with the Bible. The Book of Mormon has brought me so much joy and peace in my crazy, high school life and has brought me closer to God as I read its pages."
The school will not be providing the books. Instead, Brooks has found missionaries that will supply them.
"Through the distribution of these books, I hope to bring people closer to God and our Savior, Jesus Christ," Brooks. "I hope to help bring people peace and to have them feel God's love as they read the Book of Mormon. I want everyone to have the joy that I have received from studying this wonderful book. Because of this desire, I will be serving a mission to teach others of Jesus Christ when I turn 19."
The school honors Brooks's request and can agree to have other religious texts since they are free to do so as long as they don't promote the text or have someone distributing the text.
"
I'm totally comfortable with where we are that we're going to allow students to have their religious views and we're not going to promote one over the other."
— Principal Chris Mayfield
"There's a difference between having books out on a table and then having people stand there and hand them out," Mayfield said. "That we wouldn't do because that's really promoting, we won't do that. But we certainly are allowed. If we would allow it for one then we'll certainly allow it for another. I think that's the key is it's an opportunity if that's something they would like to but it's not something that's promoted. It's really just something that would be there if somebody wanted to go pick one up and take them."
Mayfield has not received any direct complaints about the Bibles in the commons. Unlike many other districts, the issue of religion is not a raging one at the school, as administration follows the laws about religion set in place by the Constitution.
"My opinion is exactly what the law is and that is that at schools we want to protect people's First Amendment right with the freedom of religion and along with that, which is part of the Constitutional amendment, is that we're not going to promote one over another," Mayfield said. "So really I'm totally comfortable with where we are that we're going to allow students to have their religious views and we're not going to promote one over the other."