Country run raises money for school athletics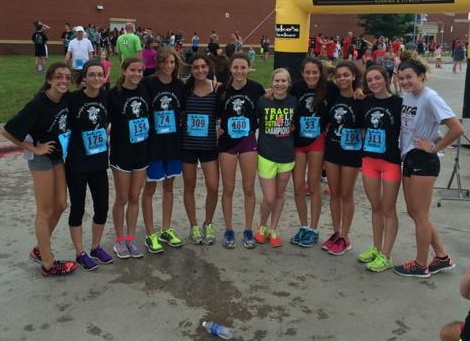 The Lovejoy community came together and worked towards a better future by achieving their goal of getting people exercising at the country run on Saturday. Students, staff, and other members of the community registered for the run that was in Lucas.
"I encourage all of my players to be a part of this run because it is important to get involved in the school events and it is also good for the athletes to get extra fitness in where they can," boy's head soccer coach Alex Duran said.
Everyone had the option to do the 5K, 1K, or the 1K fun run. The fun run began at 7:30 a.m., followed by the 5K and 1K at 8:00 a.m.
"I did the fun run this year and I'm really excited because my friends did it too," third grader Kiera Watson said.
Everyone participating had to register on the country run's website before running. A pancake breakfast after the races was included the in the registration fee.
"I like doing this run because it's fun to spend time with my friends and I love running so I was excited to run this year," freshman Jackie Albers said.
Although the run is an individual event, several local businesses help make it a community event.
"My dad's company sponsored the event because it is helping a good cause and it encourages living a healthy lifestyle," sophomore David Sinacola said. "Our family loves to help out the community when we can."
All of the donations made were given to the Lovejoy athletic programs on campus.
"I appreciate all of the sponsors because without them we wouldn't be able to have the country run," sophomore Noelle Franz said. "They donate money to support all of the Lovejoy athletic programs."
Winners:
Female Overall: Emily Pruitt
Male Overall: Grant Tiff
332 people participated