Freshman recognized for skill in poetry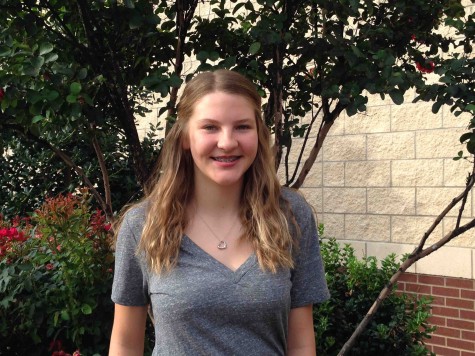 While many students think of writing as a dreaded school assignment, freshman Sophie Starnes has written several poems for pleasure and submitted them to different competitions.
Starnes poem, Solar System Silence, about defining individuality for the 2015 Chickasaw Nation's Anoli Creative Writing Contest won first place in Division 2 (grades 9-12).
She submitted another poem, Circle of Life, to the Herald Democrat for their celebration of poetry this month. The Herald Democrat published it on the front page of the April 27 edition.
Below are the two poems that Starnes has been recognized for.
Solar System Silence
It seems
Blasphemous to breathe
in the presence of the moon
When the rest of the night stays silent.
Yet we do.
As a people we breathe,
Defiant of the universe in all its
Vast, daunting glory.
Each breath makes the defiance grow stronger.
Each beating heart makes our nation last longer.
We define ourselves,
Not by the number of words we say,
But by the number of people we affect
When we say them.
Circle of Life
carving out a confession of your name,
i sigh into the stars, my breath clouding
into a nebula that glimmers against
the stark nothingness of space.
planets rotate,
somberly making their rounds;
craters expand and resources dry.
i stitched your name into the sun,
it burns and burns and burns there.
burbling and stretching until it is
the molten blood that powers
the source of life.
planets rotate,
somberly making their rounds;
the atmosphere collapses on a whim.
whispering your name into a cloud,
you rain down on the earth until you
are the ocean, the river, the water that
sustains a biome.
planets rotate,
somberly making their rounds;
a pebble causes an avalanche somewhere.
your name is a hymn
i murmur it in my sleep and
angels sing it with their heavenly voices.
the melody is stuck in my head so often,
God Himself must be playing it on
Heaven's radio station on repeat.
planets rotate,
somberly making their rounds;
a new species is born after centuries of work.