Athletes compete in area meet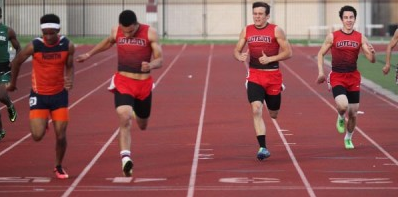 Members of the track team are competing in the Area Meet Thursday in Little Elm with the chance to go to Regionals on the line.
"I think all of our athletes and relay teams have a strong chance of qualifying for the regional meet," track coach Logan Kelly said. "I'm looking forward to see our athletes' hard work pay off and earn a qualifying spot to the regional meet."
The track group has set high expectations for themselves after a successful season.
"I feel really good about our chances since we are our going into the meet as one of the best teams there," long jump and 4×400 athlete Aaron Fuller said. "I've been on the team for the last three years, and this is the best team I've been a part of."
Another athlete is also confident of their chances to succeed, even on a national scale.
"I'll be running the 400 and 4×4 and think are chances of advancing are very strong," athlete Ian Engbrock said. "This is track's best year so far and I have confidence that we're better than any team in the country."
The area meet will bring some stiff competition for this year's coaches and track athletes.
"We will be competing with schools from our district and mainly Frisco schools plus the Colony and Little Elm," Kelly said. "McKinney North is strong in many events. Prosper boys 4×400 team is a very strong team as well. Prosper has a very strong hurdler that will give ours some solid competition. Our distance runners are in the mix with several different teams to make it out of regionals."