Grad takes on minor leagues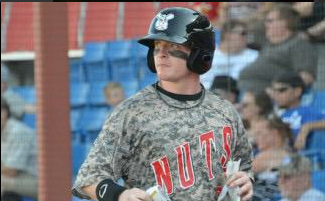 As an athlete, the big dream is always to make it professionally. The opportunity to make a living off of a sport leaves many salivating. Jake Luce, a class of 2007 graduate, has the chance to do that as he recently signed a minor league contract as an outfielder with the Baltimore Orioles. This coming after stints with the Amarillo Sox, Brownsville Charros, and most recently the Wichita Wingnuts where his team won the American Association Championship.
"It's very exciting," Jake Luce said. "It's something that I've worked my entire life for. It's come a bit later in my playing career, but I'm thrilled for the opportunity.
It's been a special moment for Jake's family, his biggest supporters.
"I'm extremely proud of him," freshman Jessica Luce said. "He's worked very hard for this, and I've him grow as a player and a person. We knew early on baseball was for him. He's loved baseball since he was two years old."
Jake's youngest brother saw Jake's potential and has watched him grow over time.
"He's always had a knack for the game," 2014 graduate Chochy Luce said. "Even when we knew he was a great player, nobody could really predict a team as big as the Orioles would sign him. If anyone deserves it, it's Jake. He's worked incredibly hard since I can remember."
Not only has Jake's individual hard work been critical to his successes, but family support has been his backbone.
"Family comes first," Jake Luce said. "When my father Joe was diagnosed with a brain tumor I had to put baseball on hold and return home. I'll always be there for my family like they've been there for me."
It paid off as Jake was able to take his skill on the field into the lecture halls of college.
"I knew he was something special when he received an athletic scholarship to play at Jefferson University in St. Louis, the same place I played," Jake's oldest brother Jackson Luce said. "It's incredible to see someone who never wavered from his goal become a pro baseball player. He's worked at it everyday for years. Me and him used to always practice Christmas Day and New Year's Eve because it meant that much to him. I am so proud he is finally getting a chance to step up to the plate."
Jake's career milestone could inspire many others in the baseball world.
"My journey to where I am today has been everything but easy," Jake Luce said. "If I could tell young baseball players anything, it would be to not get discouraged, and to never back down when challenges present themselves. If anything, take them head on. In the end, you get out what you put into it. Stay the course, keep the faith, and try to get a little better everyday."