AP courses leave the classroom to learn
Hang on for a minute...we're trying to find some more stories you might like.
With AP exams approaching, some college-level classes are taking opportunities to study outside of the classroom. Many Spanish, AP Government, and AP Art History students are taking advantage of field trips and hoping to apply classroom curriculum to the real world.
For 38 Spanish students that meant a day at the Meadows Museum in Dallas.
"It went perfectly," Spanish teacher Mallin Hernandez said. "We went to the Goya Exposition, and the Renaissance and Medieval Spaniard Exposition, and to a Tex-Mex gallery, kind of for fun. It was fun because the kids got to self-guide. I've done guided tours before, and that's nice, but they tend to be very, very boring. So they got to go where they want and pick their own art pieces to analyze."
Students in AP Government are also leaving the classroom to study in Dallas. On April 8, AP Government classes will be visiting the George W. Bush Presidential Library and Museum.
"We're taking all of the AP Government students down there in April for basically a full day," AP Government teacher Jeff Roberts said. "They'll get to do an activity and learn about the Bush Library and learn what presidential libraries are all about. They can see some of the history that involves around Bush, and we'll kind of tour the SMU campus a little bit and then we'll come back later that day."
The library, which opened in 2013, allows the AP Government students to tour for free, making it an even better opportunity for Roberts and his students.
"They'll have an AP Government type assignment activity to do while they're there," Roberts said. "That's a learning activity, but it'll give them the opportunity to see what a presidential library is like."
For AP Art History students, they will be taking a trip to the Dallas Museum of Art in the near future meant to make the AP exam easier in May.
"We'll have a little bit of free time at the museum," AP Art History teacher Amanda Beller said. "The plan is to eat at food trucks at Klyde Warren Park, and then from 12:30 to 1:30 p.m., we're going to tour at the Crow Asian art museum, which is kind of catty-cornered to the DMA, and then we'll get on the bus and head back. We'll be doing a collection highlights tour, so it'll be like a little bit of everything, not just a specific movement."
Students often look forward to a day out of the classroom.
"For art history, we're going to the DMA, and I think it'll be fun," junior Brooks Lescher said. "Mrs. Beller's been looking forward to it, she's excited to show us stuff. I'm not really into art but I think it might help for the test."
The various field trips are meant to give students a better understanding of classroom curriculum. But for the teachers, these trips can also be about more than just the AP exam.
"I hope it'll get you excited," Beller said. "We've been studying all these names, and so now you can actually see them, and it'll give hopefully a different experience when you can see the texture of the canvas or the reflection off the marble. Hopefully it'll make it more real. When you see it in real life, hopefully you get an idea of scale, so that'll help too. And I just want you all to appreciate looking at the art, and for it not just to be classroom stuff."

About the Writer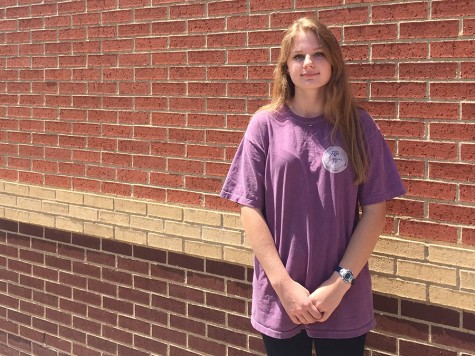 Savannah Whitmer, News Editor
As a senior, this is Savannah Whitmer's fourth and final year on The Red Ledger staff. Previously known to her devoted readers as The Only Human Ever...