Tennis district play to begin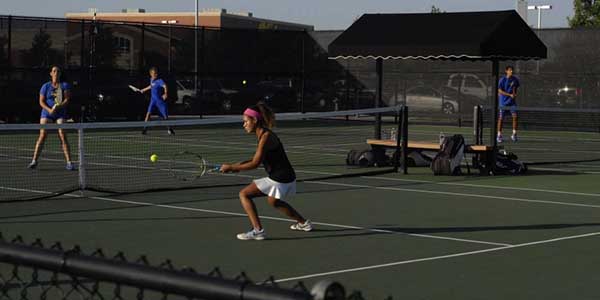 The road to state for Leopard tennis players begins Monday and Tuesday in the District 10-5A District singles championships at the Eldorado Country Club.
"The district tournament is similar to March Madness," head tennis coach Adam Cherry said. "Win or go home. Most tennis tournaments have a consolation bracket but at district and the remainder of the season there is no consolation."
After a successful district meet last year, the Leopards return to competition this year with a number of highly ranked seeds.
"We received the first seed in boys doubles and girls doubles," Cherry said. "We also received the number two seed in boys doubles, girls doubles, and boys singles.  Based on seeds, we are predicated to advance nine kids to the regional tournament (as opposed to eight last year)."
Even though the spring season is for individual players, junior Brittany Brooks's preparation doesn't change much because she is still playing with a partner.
"My mindset isn't that different because fall we played as a team, and because I'm in doubles I'm still apart of my doubles team," Brooks said.
For junior doubles player Grady Wells, getting ready for the district tournament has been different from the rest of the spring tournaments.
"Preparation has been different," Wells said. "My partner and I (junior Cole Bennett) are preparing for this district tournament a bit differently, because this year we have a real shot at winning a district championship"
In contrast to the fall tennis season, the spring tennis season is focused on individuals and doubles, not team tennis. Despite the difference, the coaching approach does not change for Cherry.
"As far as coaching goes, there really isn't much difference than from the fall," Cherry said. "Our goals are to get as many kids as possible to the state tournament to give us an opportunity to bring home a state championship."