Project will allow for increased water supply from Lake Lavon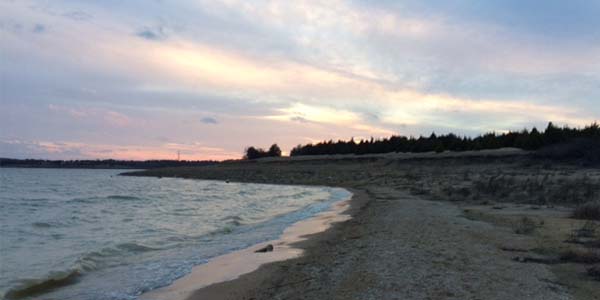 Where water once was, now is merely a dry and cracking receding water line. Because of this, Lake Lavon is the site of a new dredging project for the North Texas Municipal Water District, which provides water to 1.6 million customers in the area. This project, expected to take place in the spring, will allow for an large increase in water deliveries from the lake.
"Dredge America is a hydraulic dredging company," Dredge America's Anna Robinson said. "Hydraulic dredging can be thought of as "vacuuming" a lake. The dredge has a long cutter head which breaks up the material (like the bristles on a vacuum brush). Once the material is loose, it sucks up the sediment, along with the water, through a pipeline (or a vacuum hose) into the basin. Once it has reached the basin, the sediment slowly settles and dewaters. It is the least invasive and most environmental friendly type of dredging."
Before the actual dredging is to begin, setup had to take place.
"Our first task was to build a settling basin, which is an area of built up land, close to the lake, for dewatering the dredged material," Robinson said. "Once the basin has been constructed dredging operations can begin."
Getting everything ready to begin dredging took time, and the weather greatly affects the ability for them to work.
"They have to do all the staging, getting everything ready," district spokeswoman Denise Hickey said in an interview with the Dallas Morning News. "My understanding is there are very few pieces of dredging equipment available. And the lake level has to be low enough for them to work. If we get too much rain [in early spring], it makes it difficult to work."
There are many benefits to a hydraulic dredging project for the lake.
"Dredge America will be dredging around the intake channels of Lake Lavon," Anna Robinson from Dredge America said. "This will allow the water flow to increase, as well as the lake's water capacity. This, in turn, will increase water deliveries by 7.2 million gallons a day."
During the summer the lake's water levels can fall 5-10 feet said Hickey and the low water levels do not go unnoticed by citizens and students.
"I go out to the lake quite a bit during the summer just to hang out and have fun with my friends," senior Rachel Frank said. "I have definitely noticed the water levels receding a ton during the summer so it's good they are taking some action and trying to improve the lake."